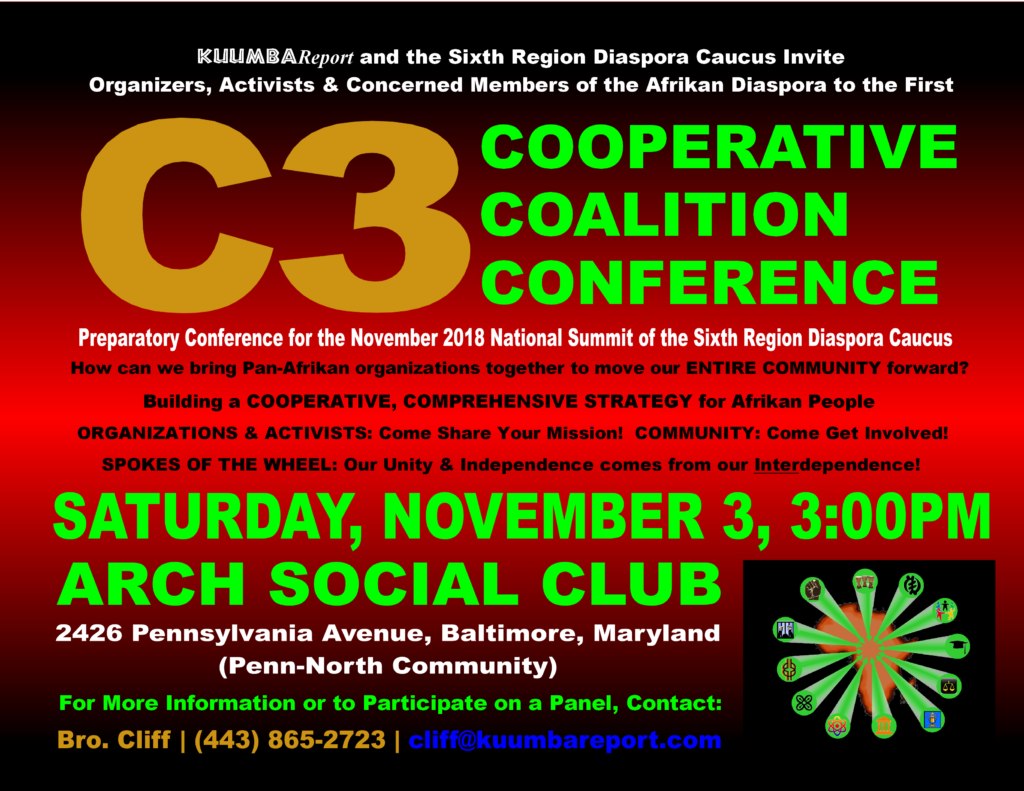 As part of the ongoing effort to build true Pan-Afrikan Unity and develop an all-encompassing, people-centered strategy for the uplift of Afrikan people, the Maryland Organization of the Sixth Region Diaspora Caucus (SRDC), in cooperation with KUUMBA Events and Communications, is holding its first Cooperative Coalition Conference ("C3") at the historic Arch Social Club at 2426 Pennsylvania Avenue in Baltimore, Maryland.
The conference, which is being billed more as a "meeting" to which all Pan-Afrikan activists are invited, will be held on Saturday, November 3, 2018 at 3:00 PM.
The purpose of the meeting will not be to tout one's extensive resume of community activism and commitment to Pan-Afrikan  liberation and uplift, but rather to discuss ways in which the many and varied strategies embraced by these committed activists and organizations can work cooperatively toward the greater common goal of lifting up and healing the Pan-Afrikan community in Baltimore, Maryland, the United States and around the world.
There are many activists, artists and entrepreneurs who all feel that "their" way is "the" way for people of Afrikan descent to free ourselves of the cycles of political repression, disenfranchisement, miseducation, self-destruction and hopelessness that too often pervade our collective existence.  The flaw in the thinking of many of us is the notion that a single, limited strategy, such as economics, voting or praying, will be able to solve the multiple issues that beset us: institutional racism, voter suppression, poverty, malnutrition, crime, police abuse, mass incarceration, alienation from each other, ignorance of our history and so many more.  Those who insist that one solution will solve all those problems miss the point: to solve all these issues, we need all solutions, and as such, we need all our committed activists and organizations, from the artists to the businesses to the lawyers to the scientists to the revolutionaries to the mass media, working together in the spirit of cooperation and teamwork.
Efforts have been made in the past to build Pan Afrikan United Front organizations, and too many of them have collapsed.  Perhaps this is because the emphasis was on getting different organizations together in the same room without stressing the need for cooperation first.  A proposal for a cooperative coalition, called "Spokes of the Wheel", has been presented on this web site and on KUUMBAReport Online (http://kuumbareport.com).  Thus, this invitation is for activists to get together to plan how we will cooperate with each other first.  And this is an invitation, rather than a call to action.  As event organizer Bro. Cliff Kuumba says, "This is not a compulsory thing.  You have to want to come to this meeting.  If you don't want to come, I don't want to see you.  But if you do want to come, by all means, we want to see you there."
If this effort is successful, the plan will be to announce the establishment of the Pan-Afrikan Cooperative Coalition at the 11th SRDC International Summit, which will be held November 16-17, 2018 at the historic Great Blacks In Wax Museum at 1649 East North Avenue in Baltimore.  It is hoped that this effort, starting at the local level in Baltimore and Maryland, will be able to help spark the resurgence of a similar effort that was launched in 2009 on the global level and was named the Pan African Diaspora Union (PADU).  Several members of that PADU coalition will be present at the SRDC International Summit.  We hope this meeting on November 3 will supply a much-needed shot in the arm to the effort to re-establish PADU on the global scale and thus help us move closer to Global Pan-Afrikan Unity.