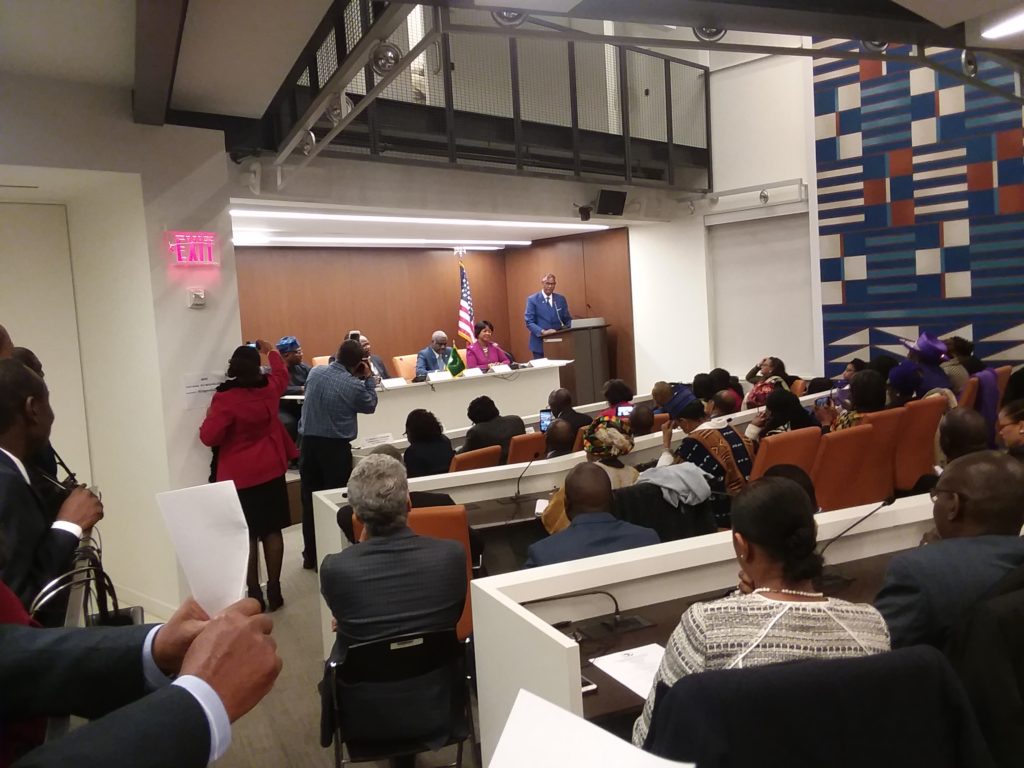 [NOTE: This article originally appeared on the Website http://kuumbareport.com.]
The African Union Mission in Georgetown, Northwest Washington, DC, was the location for a special event, the meeting of the Chair of the African Union Commission, His Excellency Moussa Faki Mahamat, with members of the African Diaspora on Wednesday, November 15, 2017. The event was emceed by Mr. Melvin Foote, president of the Constituency For Africa (CFA), a Washington, DC-based lobbying organization that seeks to influence United States policy in favor of constructive objectives for the United States as well as the Continent and people of Africa.  Also present at the meeting was the current African Union Ambassador to the United States, Madame Ambassador Arikana Chimbori-Quao, and several other local and regional advocates for members of the African Immigrant Community in the United States. The audience included a number of members of that Community, as well as Afrikan-American Pan-Afrikan activists who had gathered here to learn more about the AUC Chair's positions on African development, the African Union's relations with the United States, the role the Diaspora can play in lifting Africa up, and how the African Descendant populations, particularly Afrikan-Americans, can not only contribute more effectively to the development of the African Continent but also gain, at last, that Seat At The Table in the African Union's Economic, Social and Cultural Council (ECOSOCC) and Pan-African Parliament.  Indeed, the most compelling statement of the event was perhaps delivered at the end, by Sis. Iman Hameen, a descendant of Afrikans who were captured from the Mother Continent and forcibly taken to the shores of the ?Americas over four centuries ago.
Mr. Foote began the event with an introduction of himself and a statement.
Mr. Melvin Foote, event emcee, President of the Constituency for Africa (CFA)
"Good evening. … This is a day the Lord has made for the Diaspora and we should be celebrating. … My name is Mel Foote. I'm the president of the Constituency For Africa. CFA is a Washington, DC-based organization that works to educate Americans about Africa, improve cooperation and coordination among various organizations, groups and businesses that work on African issues, we work to unify the African Diaspora, and our end product is we work to shape United States policy toward Africa. Since we're in America, we should be shaping US policy toward Africa in a way that supports the African Union.
"It gives me great pleasure on behalf of the Constituency For Africa and the African Diaspora to welcome to Washington the Chairman of the African Union Commission, His Excellency Moussa Faki Mahamat.
"Mr. Chairman, the Diaspora worldwide and in the United States has much to offer Africa. In the United States alone, there are over 50 million who are Diasporan. This includes African Americans whose Ancestors were brought to these shores 400 years ago as slaves, to provide the free labor that enabled the country to develop into the power that it is today. There are also African immigrants from countries across the Continent who now rank as the best educated of all the immigrant populations in this country.
"According to the World Bank, the African immigrant community remits more than $35 billion to the Continent each year, a larger amount than all the Foreign Direct Investment that the Continent receives currently. There's also a large [immigrant community of] Afro Latinos, and those from the Caribbean.
"There are many areas where the African Union and the Diaspora community can work together and cooperate. One clear area that we can jointly work together on is increasing direct and indirect investment in Africa and on economic and business development. Mr. Chairman, you will be pleased to know that the technological ability of the Diaspora in these United States in the areas of health care, education, business development, agriculture production, computers and sciences, roads and infrastructure construction, and many other areas, which if effectively tapped can be a valuable resource for Africa, as the Continent addresses the growing demands of citizens and the developing challenge of facing the rapidly expanding next generation on the Continent.
"Sir, if properly engaged, we in the Diaspora can also be much more helpful to Africa in lobbying the United States government, and to ensure that Africa is dealt with in a fair and equitable manner. That's very important Sir. The Diaspora can really access the United States government to give a better hand to Africa.
"Though we are very proud to call ourselves Americans and very much want the United States to win – we want our country to win, we want America to win – but we are also proud of our African heritage, and we want Mother Africa to win also. That's why they call us African Americans. We love Africa and we love America.
"I must tell you, Mr. Chairman, while we in the Diaspora have this great potential, we are also very much challenged by the lack of unity and spirit of cooperation among us. We are deeply divided, fragmented, and even antagonistic toward one another. We often spend inordinate amounts of our time attending to nonsense issues such as Who is an African and who is not an African. Q'uest que c'est?
"I guess the real question is: Are you an African because you were born in Africa? Or are you an African because Africa is born in you?
"We certainly look forward, Mr. Chairman, to your clarification on the definition of the African Diaspora, and how you envision that we can work together in a more unified manner.
"We certainly look forward to hearing from you, Chairman Moussa Faki Mahamat, as you engage us on issues concerning Africa and the Diaspora. In addition to hearing your thoughts on a range of issues on Africa involving economic development, democracy and governance, and social and political development, we are especially eager to hear your thoughts, Mr. Chairman, on how we in the Diaspora can best work with the African Union to address and resolve issues in Africa and to and to work toward a more harmonious union of African people, worldwide.
"Mr. Chairman, the African Union has sent us a great Ambassador to Washington. We are very pleased with Ambassador Arikana Chimbori-Quao. We don't want her ever to go. …"
Mr. Mamadou Samba, Director, Washington, DC Mayor's Office on African Affairs
"Washington, DC has the only Office of African Affairs in the United States, and we have a mandate to serve the African community here. There are about 16 to 18 thousand African immigrants in Washington, DC, and about 112,000 in the Washington Metropolitan Area, and about 1.7 million in the United States. So you can see the importance of our office, which is now ten years old. The office was created in 2006 after the community galvanized to ask for the city to create a body that supports the African immigrants and makes sure that when they do come to the United States they have a structure to help navigate and have access to services and resources. Our work is done in partnership with the Commission on African Affairs, which is 15 dynamic African leaders that serve as advisers to the office, to the Mayor and the Council on issues that impact the African community.
"Our services are divided into five or six areas where we provide services. One of them is Constituent Services. Any time somebody walks into our office and says 'I just moved to the city, I don't have a place to go, I'm looking for a job,' our office provides those services. Our African Community Grant is another one. As of today, we've funded a total of $120,000 to African nonprofit organizations.  The program provides cultural services to African community members. One of them is Konkouran West African Dance Company, which is the only traditional African dance company in Washington, DC. They've been here for 30 years. And because of our funding, they're able to stay in DC and not move to Maryland, and nobody should go to Maryland, everyone should stay in DC [laughs]. …
"Our capacity building program is another area where we provide training and support [for] the capacity of non-profit organizations. …
"Other programs are also there, but I just wanted to highlight our Youth Engagement Program, where every year in July … we host a Young African Convention Summit [for] African community members to come in and talk about community engagement and volunteerism and what we can do to impact positive change in our community here. I'd like to officially extend an invitation to our next year Summit, which is on July 13th, to come and participate and talk to our community members.
"After the Summit every year, we host our very famous Mandela Day of Service. In case you didn't know, we are the only city in the United States that has a Mandela Day of Service, where every year we follow Mandela's legacy, and go out and volunteer in changing our community.
"And this is what our office is all about. … This is what the African Diaspora is all about. … The Ethiopian community is about 46%.  We have the Nigerian community, Ghana, Cameroon and Kenya, and they spend a lot of time trying to find out who makes the best Jolof Rice. Of course, we know Senegal makes the best, because Jolof is in Senegal [laughs]. …
"We surveyed about 238 Africans. And it was found that 64% of them identified discrimination as the number one barrier to finding employment. 50% of them find lack of work experience was the second barrier. And personal and financial reasons was the third barrier to why Africans are having trouble finding employment. Here in Washington, DC, if you get into a cab it's probably an Ethiopian [who is driving it]. More than likely, a Master's or Ph.D. but he's driving a cab. This is the reason why the past few weeks Washington, DC has, as a result of our survey, created a task force to address credentialing issues of African immigrants in the United States, so that those who are doctors in Nigeria, if they want to practice here, we identify what are the credentialing issues that could be adopted here. Or if they are practitioners in whatever field, when they come here they can work in their field. …"
Mr. Kende Oregba, Chairman of the Maryland Governor's Commission on African Affairs
"Africa is my fatherland. Nigeria is my country. … My goal as Chairman is to have a unified voice for all the Africans in the state of Maryland. For Diasporans … If we all come together as one, with one voice, there's a lot that we can achieve together. … We have to come together as Diasporans both in cultural, education and businesses to unify and do things in common. That is my goal, and that is what I come here to do."
Mr. Alhousseynou "Al" Ba, President and Chief Execiutive Officer of One-Africa Group
"Africans and African-Americans need to help each other … using technology. That's why we built this social media application. We are thankful to have a champion like Ms. Arikana. … She really unites us. …" (introducing the AU Ambassador, Ms. Arikana Chimbori-Quao of Zimbabwe)
Madame Ambassador Arikana Chimbori-Quao, African Union Ambassador to the United States
"Good evening everyone. Thank you for coming. It's a weekday, and I know you have all been to work and yet you found time to come in and spend some time with our very own Chair of the African Union.
"I have to say this is a very important day, for me, for all of us, also for the Chair also for the Chair and his team with which he has been traveling, believe it or not, these past two weeks, from one country to the other, putting out fires across the Continent. I picked him up from the airport this morning at 6:30, and we've been at it since then. … They flew all night. And at one point even contemplated moving [rescheduling] the event again [it had originally been scheduled for the summer but was rescheduled because of problems coordinating with the Trump administration — Editor] and he said 'No.' He said 'If you cancel any other meeting you can cancel all of them, but not the Diaspora.'
"I have talked, I have preached, I've jumped up and down, I've climbed to the tallest mountain, and proclaimed who the African Diaspora are. All people of African descent living outside of Africa. Today I say, you asked, you complained, and I promised you I would deliver. Without further ado, and I know Brother Mel has said everything I could possibly say, please give a resounding welcome to our own Chair, Moussa Faki Mahamat."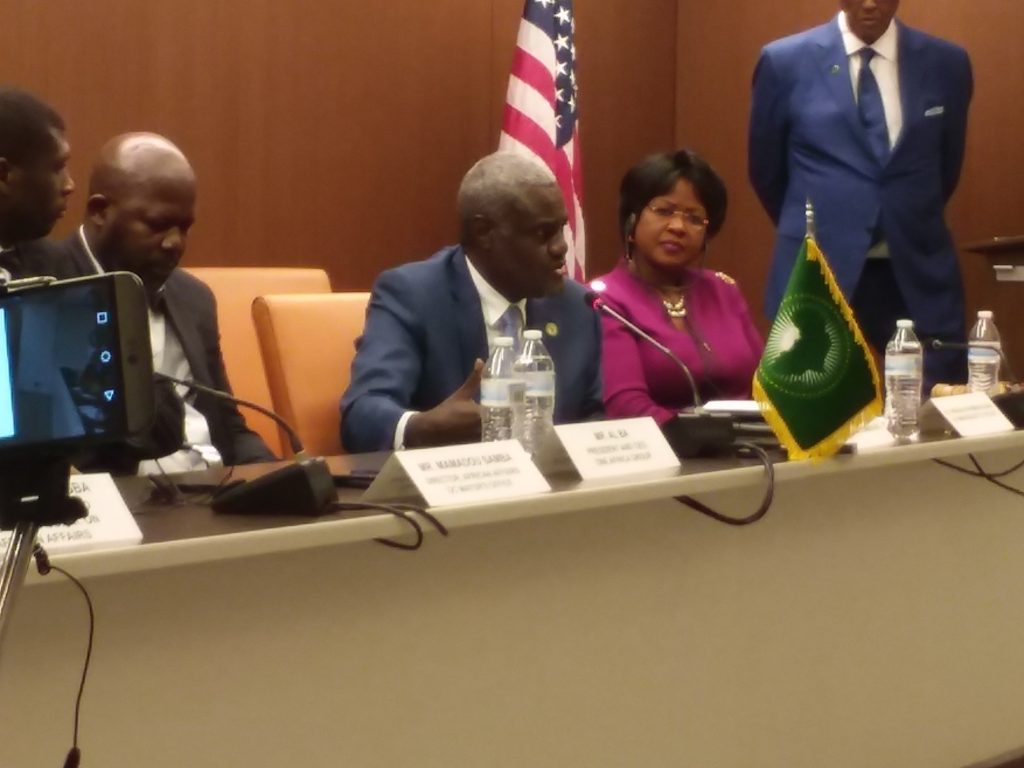 His Excellency Moussa Faki Mahamat, Chair of the African Union Commission (AUC)
[He delivered his address in French. The following transcript is from the point where we were able to access audio of the English translation of his speech, a few moments in.]
"The world has become a real global village and each one of us, even thousands of miles away, can act and interact with others.
"Everything that is expected of you, at a time when the Continent is developing, and despite all the challenges that the Continent is facing, I can reassure you that Africa is on the move, and it wants to walk together with all its children, wherever they are.
"You can be useful to yourselves and to your Mother Continent, first of all by organizing yourselves; all the societies that succeed are societies that organized themselves. You need unity, you need to work together, for the same objective.
"On the Continent, it has become the order of the day that Africa should speak with one voice. So in the Diaspora also, you should speak with one voice. When you are united, when you speak with one voice, you are going to show your force and your capacity, your capacity to change, to change the daily lot which is that of women, youth, and the lesser young ones in Africa.
"The Diaspora, particularly the Diaspora in the United States, is the outcome of a struggle, a major struggle with the first ones who became aware, who have broken the fetters and the chains, who despite the violence have shown the way and have paved the way.
"The Black movement, the liberation movement of the Black man on the Continent has been inspired by the great men who were born and have grown up in these conditions outside of Africa. This is something which is extraordinary and we can never forget that.
"I believe we're at the time when everyone today since the liberation of the Continent, we can really achieve big things for our Continent. We rely a lot on you. But you also can rely on us. We have the conviction, the deep conviction, that things have to change, that things have to be fair in this world, and I believe we have the necessary resources. We have the knowledge, we have the know-how.  We have the conviction. And we have the historical reference. It is just [that] we have to sit down and work. We cannot allow ourselves to be digressed or diverted. We are a third of mankind, those who live on the African Continent and those who live across the world.
"So we can change the world into a more humane and human world. Because we ourselves, we have suffered injustice. So we can change the world to become more human, more interdependent, and I believe that we have references. … I think we have a reference.  Mandela has nothing to envy from any prophets. He himself was a prophet. His capacity to transcend, despite all the sufferings he had been through, he is a monument, he is an icon. And in all his works, we have to look at the future. Forget the past and look to the future. Africa is very often projected through negative images. Yes, we have problems like everywhere in the world. But we have hope. … [A populace that is] courageous, enterprising, which is trying to build this future. So all our Brothers and Sisters across the world have to contribute to the emergence of this Continent. Because potentialities exist, it is your Motherland, which will welcome you at any time, those who want to return to Africa can do so, those who want to export their knowledge, their investments, the doors are open. …
"Migration, which is a phenomenon that is affecting the African Continent, all of these are maybe, for a given circumstance, due to drought, famine and others, because this is not an adventure where people just have to die and drown in the ocean. This capital, and particularly those who live in the United States, which itself is a country of migrants by essence. … This is a country of different origins, of different colors, and there is that will to live together. So, dear Sisters and Brothers … I don't need to make speeches. I simply want to tell you that we expect a lot from you. But as I said, you can also count on us, and have expectations. We need to organize ourselves.  We on the Continent are trying to do what we can. We need your assistance, your contribution, your innovations, and we can help you
organize yourselves into a structure so that you can develop and to make your Brothers and Sisters benefit from your experience in life.
"The Diaspora is important, and as you know, in the history of peoples, and I know in the African Diaspora, there are people contributing billions of dollars every year through their work and many families depend on the remittances and the many communities develop through the contributions of the Diaspora. This is an extraordinary contribution. And history will retain that the best organized people are the ones that succeed. One cent or one dollar is something, and when you think in terms of a million inhabitants, then it becomes [a] significant amount. We can make investments, we can change the life of people. So dear Brothers and Sisters, apart from the emotional feelings, we need a scientific approach. An organization, an awareness, so that together, we can change life on this Continent. I can reassure you that in the African Union, the Commission, we have taken an oath that we are going to carry out our duties and to ensure that things will change. …"
Questions from the Audience
Mr. Foote called on several audience members to pose questions.
Q: Former US Ambassador Linda Thomas-Greenfield asked, "What in terms of your engagement with the US government over the next few days are the goals you would like to achieve?"
A: "We have an annual meeting which is held one year in Washington and one year in Addis Ababa on peace and security issues, governance, investments, trade and development. There is a new American administration and it will be our first official meeting tomorrow [November 16]. We have come with an open mind and we hope to continue in that dynamic approach which has governed the relations between the United States and Africa. We are an important Continent. Looking at its population, its resources, and its geopolitical position. And I believe it is in the interest of the United States to work with us. We have agreements on trade and investment and we hope that this will continue in a spirit where we will find ourselves in a 'win-win' situation. The situation, like, for example, the Climate Ex-
change, which is important for countries in Africa which [are] victims of droughts, disasters, the fight against terrorism, but since Africa has also become a theater for these terrorist activities, we hope that we are going to do something. We want to give more impetus to AGOA [the Africa Growth and Opportunity Act, which was touted by the Clinton and Obama administrations as a means to improve trade with Afrika — Editor]. And we are a Continent of a lot of possibilities, and which, obviously, gives a lot of possibilities for investments. So we hope that in the discussions with the United States, we should be able to enhance our cooperation and this is our concern and these are issues we are going to raise tomorrow."
Q: An audience member from Cameroon asked, "What is the role of African youth in your Agenda and what place do they have in decision-making?"
Q: The director of an organization called the International Youth Leadership Institute asked, "On behalf of the African youth, what role can travel play in bridging the gap between the Continent and Diaspora? What are your thoughts on youth in decision-making and helping to bridge the gap?"
A: "The issue of youth and I say that today for more than 60% of the population, on a Continent of more than 1.2 billion inhabitants, 60% of which are youth and are very important. Therefore we need to educate and organize the youth so that they can play the role of transforming the Continent. And it is fore this reason that this year, the theme for the year in the African Union is How to harness the demographic dividend by investing in youth. It's a very crucial theme and within the framework of the reforms that have been initiated, the institutions of the African Union are trying to think of how to have … youth in the African institutions so that they can be involved in the management of the decision-making on the Continent. And this is something which is very logical, since they are the majority and logically speaking the majority should have [its place]."
Q: An audience member asked on behalf of UNESCO about the AUC's interest in digital documentation of countries' heritage, or what he referred to as "Digital Repatriations … digital transformation the cultural heritage of different countries in Africa."
A: "The issue of the availability of the digital repatriation – If you have any proposal, put it in writing and you can give it to the Ambassador here; she will convey it. …"
Q: Baba Akbar Muhammad asked, "After living in Africa for twelve years, I lecture and talk on Africa. And one of the questions I get from our youth [involves] a serious discussion about Dual citizenship for those in the Diaspora. And I'd like to suggest and would like to know from you, would the African Union at upcoming meetings discuss it so we can talk to the young people who are asking that question?"
Q: Another audience member asked, "How can a truly enabling environment be created to make the relocation and integration of Diasporans sustainable and impactful on the Continent?"
A: "The Diaspora and the Continent – I believe there are reciprocal responsibilities. I was saying, you can expect from us and we also expect from you. We want to create the necessary conditions for those that want to return where they can find favorable conditions which are conducive. We want to encourage investment from the Diaspora. We need the expertise, the know-how, of the brains in the Diaspora, in the different parts of the world. And some are at the highest level and they can make the Continent benefit from their knowledge, from their know-how. We are the "mother", and we need to establish the conditions. We are ready to discuss with the Diaspora, wherever they are so that their living conditions, their mobility, their problems are taken into account. So, there are common interests and so we need to work together. So it is not by chance that they are thinking that the Diaspora is the Sixth Region of Africa.  So it is important that I say to organize the Diaspora, that the Diaspora should organize itself, and you will have them in the decision-making organs [and be] considered as the Sixth Region. It all depends on the organization, that they are the stakeholders in the decision-making.
"Now, what environment should we make for the Diaspora? Well, the conditions are necessary for all possible investments, and also to have the possibility of getting land, either for cultural development and investment, these are all possible. We can approach and engage the various Member States, and this forms an integral part of the population of the Continent.
"The issue of nationality because the question was raised, 'Who is African and who is not'. For us all people who have an African lineage … We need to remove barriers between countries to allow for free movement of persons and goods [with an] African passport for the officials, diplomatic services, we are going to give them to businessmen, to students, so that we can have an African passport, and that will enable people to travel from, let's say up to the Cape and, oh, from Goree Island too. … So this mobility will allow people to know each other better and to work together for the Continent.
"We have ambitions for this Continent, which has been the victim of a lot of foreign interference, but as you are aware, we are hopeful in the daily struggle. And I thank you. …"
Q: What can we in the Diaspora do to help the situation in Zimbabwe and what is happening across Africa? What can we do that would be helpful?
A: "Thank you [for that question]. How can the Diaspora be useful, particularly with what is happening on the Continent. I think we can move from the smallest to the biggest thing and issue. To send a school book or a note book to to a village from somebody in the Diaspora is, I think, a thing that is highly appreciated. To invest one million dollars in a business in Zimbabwe which is rich, is an important action [and we must create] the necessary conditions for that. I am not saying that in a charitable way, just to go and help people; it does not work. I think we should give the possibility to people to at least fend for themselves. But knowledge, know-how, investment. We need to create the necessary conditions for people to be trained so that they can stand on their feet. The Diaspora has that advantage. They have people who have acquired knowledge, extraordinary know-how, in health, education, energy, business, in agriculture. So, this is what I call the wealth of the Continent. … People have capital and sometimes they don't know what to do with it. … With $5,000 you can do business in Africa. … You can do small things and big things and see what the Diaspora can contribute.
Q: Another audience member asked, "What is your strategy to make the world more humane?"
A: "How to make the world more human? People who have gone through certain experiences and are capable of conveying a different method … I give the example of Nelson Mandela. With all the difficulties and problems he went through, we needed a man like him to say 'We need transcend the situation, we need to forgive, we need to build our country' … The people who have done this, they are capable of transforming the world.
"In respect of legality between men and women, we say everybody is equal. [In some places] we have discrimination … Because of your name or the color of your skin, there is discrimination. … Many of the Diaspora do go through this in certain regions. So we need to develop … A peaceful philosophy that, by conviction, you can change and make the world more human. …
"I spoke of a world [that is] more human, which does not take into account the rank or the color of the skin of the person. I thank you."
At this time, Mr. Foote began to move to the next agenda item, a proclamation from the World Council of Mayors. However, an urgent request was made for an Elder to pose an important question.  Elder Nabeela Uqdah chose to defer her comments on reparations and repatriation due to time constraints.  Thus the floor was yielded to Sis. Iman Hameen, Facilitator Emeritus (2006 – 2012) of the New York Organization of the Sixth Region Diaspora Caucus (SRDC).  Her comments, given with permission from Elders and which included some of Elder Nabeela Uqdah's questions and ideas, were perhaps the most important of the entire evening.
The Statement of Sis. Iman Hameen
"To His Excellency Chairman Mahamat, Distinguished Heads of State, The Honorable AU Ambassador Quao, The Honorable Mel Foote, the steadfast organizers of this event, and all Esteemed Members of the audience, I must first ask my Elders, may I speak? … Thank you.
"I could greet you in an African language but which one do I choose? There are anywhere from 1500-2000 different African, native and tribal languages. Should it be Zulu or Ewe? Kiswahili or Amharic? Should it be the language of Mozambique or respectfully, a native language of the people of Chad, or how about Ebonics? Because we have not decided on ONE mandatory, official African language, FOR NOW, I must speak in the language of a colonizer, which brings me to my first of three points.  Please indulge me; it has taken 400 years for me to get here.
"Briefly, I come to you in earnest and with a strong sense of urgency to push the conversation and debate. We must organize as ONE body, with ONE AIM and ONE DESTINY as a Union of African States be it as a republic or federation. We must unite as ONE, with one president, one strong united defense and one currency. We must have a national African plebiscite and referendum to move this agenda forward.
"Point #2: As such, we declare that you must direct your eyes, minds and hearts to the deplorable plight of the so-called African Americans. I am specifically talking about the surviving descendants or ascendants, if you will, of kidnapped Africans who were brought to the United States via human trafficking. We, the SURVIVORS of the MAAFA are being destroyed in the United States. We are targeted for annihilation and genocide EVERYDAY. The time has come and history dictates a mass return of our people to Africa but where in Africa do we go? We are not Ghanaians, Liberians, Azanians, Libyans, Nigerians nor Ethiopians, etc. We are a HOMELESS, LANDLESS people. We cannot claim an island, state or one African country as our own like the Caribbeans or Diasporan Continental Africans can. We need our own designated, sovereign land within a united Africa so that we can heal, develop, prosper and help to unite Africa. We ask for LAND that we can call our own sovereign land so that we can return as transplanted Africans with all of our skills, talents and resources, with our weaknesses and strengths. We are due reparations from the US and Africa and we have a right to Repatriation. We ask you, Chairman Mahamat to take our plight to the other members of the African Union expeditiously.
"Point #3: We have contributed endlessly and faithfully to the discussions, forums, conventions, declarations, protests, financial interests, wars and whims of Africa and yet we are NOT at the table. We are NOT on the agenda in any concrete and equal way. Within the AU's call for a Sixth Region, we are still overlooked. We have followed all protocols and filed all necessary applications. And we have yet to be officially recognized. Not merely, as Diasporans, but as a special, separate group of African people who live in the United States. When will we be granted, not only observer status but VOTING status as members of the African Union? WE BELONG AT THE TABLE! If not now, WHEN?
"In closing, to reiterate, these are urgent matters of grave importance that must be treated with even more urgency. We ask to be on the AU agenda. REPARATIONS are due to us. We ask for sovereign land within a united Africa, we ask for voting status at the ECOSOCC table, and we ask that the AU aid us in returning home. We are a NATION WITHIN A NATION and we want to come home now (maintenant). Chairman Mahamat, the task is now in your hands – take our plight to your fellow members of the AU. Thank you.
"Sincerely,
Iman Uqdah Hameen, an anxious citizen of the Union of African States …"
After this important statement, which it should be noted did not receive a direct answer even though her statement was met by repeated applause from the audience, the presentation by Ms. Mary Thomas of the World Conference of Mayors was made to the AUC Chairman, and the event was officially closed.