The first Maryland Pan-Afrikan Town Hall Meeting of 2018 was held at the Arch Social Club in the Penn-North neighborhood in Baltimore on Saturday, February 24. The event was called by the newly-seated Maryland Council of Elders and was co-sponsored by the Council, the Arch Social Club and the Sixth Region Diaspora Caucus (SRDC).
The Council was spoken for by its current Chair, Baba Rafiki Morris, its Co-Chair, Mama Maisha Washington, and Baba Ade Oba Tokunbo, the three of whom sat at the head table and directly addressed the audience.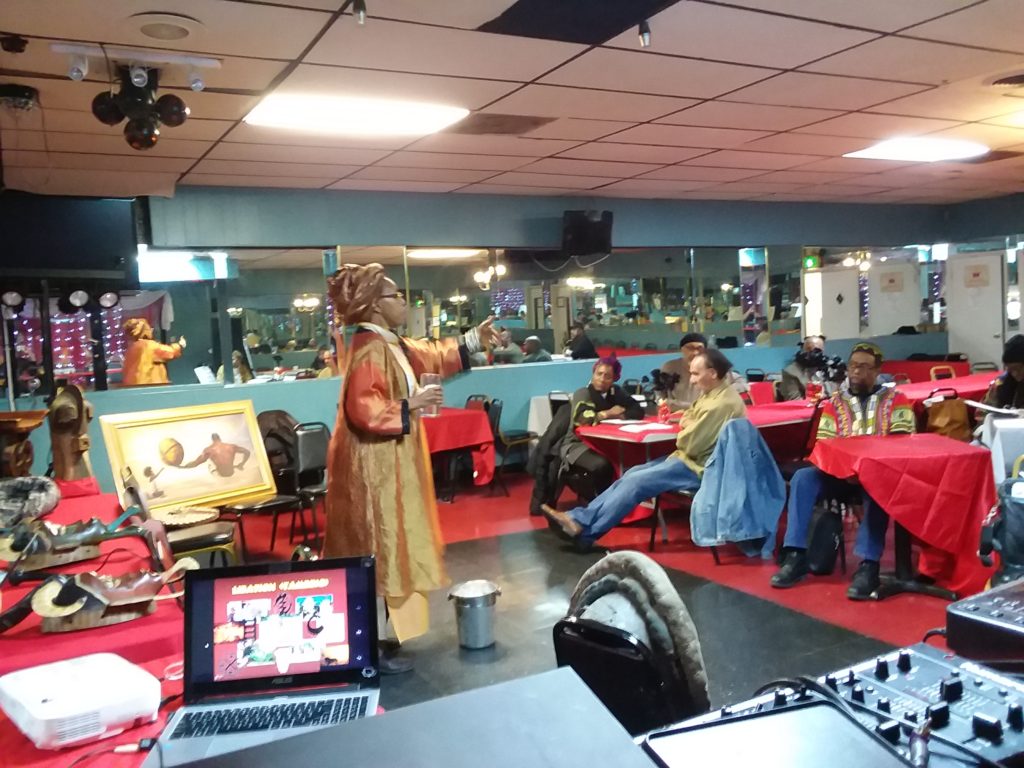 After a Tambiko (Libation) by guest officiant Mama Abena was given in recognition of the Ancestors using contemporary and ancient Afrikan traditions, the meeting proceeded to a discussion of the Council's priority items for the year 2018.
The Council's overarching mandate, which the Council had chosen for itself after its confirmation and seating at the December 2, 2017 Town Hall Meeting, was to find a way to break through the barriers to the building of unity among Pan-Afrikan organizers and grassroots community members. In support of the building of this larger unity, the Council has identified four main projects it is embracing for the year:
African Liberation Day, May 25-26. Baba Charlie Dugger has held an annual event in Harlem Park over the ALD Weekend, which has generally been referred to as "Africa Day". Until this year, Baba Charlie has led this effort largely on his own, directing other committed activists, artists and workers in the community to assist him in bringing his Day in the Park to a successful conclusion every year. But is has been determined that, if the event is to become even more significant to our community, Baba Charlie will need more assistance from the rest of us. The Council would like to expand this into a weekend of discussions, cultural events and planning sessions so that African Liberation Day can more effectively return to its more activistic Pan-Afrikan roots.
A Day of Appreciation for the Elders of the Community. Baba Ade has proposed a day on which a special event can be held to celebrate the Elders of the Community, which would be held over the Autumnal Equinox.
A series of Town Hall Meetings, which the Council proposes to refer to as "People's Assemblies", in which the Council would establish specific presentations and discussions to be held. The Assemblies would occur approximately every two months; thus future Assemblies will be scheduled for April, June, August, October and December.
The 2018 National Summit of the Sixth Region Diaspora Caucus (SRDC), the co-conveners of the Assemblies. This year, the National Summit will be held in Baltimore, Maryland over the weekend of November 16-18. Locations have yet to be established, but should be determined sometime in March or early April.
This particular Town Hall Meeting, or People's Assembly, provided the opportunity for the attending public to be introduced to the members of the Maryland Council of Elders:
Baba Rafiki Morris (Chair)
Mama Maisha Washington (Co-Chair)
Rev. Mothermarci Bowyer-Barron (Co-Chair)
Baba Yahya Shabazz (Treasurer)
Baba Leslie "Kenyatta" Howard (Program Director)
Baba David Murphy (Media, Communications and Promotions)
Baba Ade Oba Tokunbo (Elders Recognition Program Director)
Baba Ishaka-Ra-Hannibal-El
Baba Sankofa Knox
Other contributors include Mama Victory Swift, Baba Charlie Dugger, Sis. Ujimma Masani, Sis. Ertha Harris, Baba Julius McAllister, Sis. Kim Poole and Dr. Ken Morgan, all of whom have contributed to meetings of the Elders Council and of sub-committees of the Council.
A number of community members took the time to ask questions and propose ideas and directions for the Assemblies to take.
APP-HRC's Presentation: Aging People in Prison, Inter-Generational Oppression and Cities of Trauma
The event's special guests were Mama Tomiko Shine and Baba Tyronne Morton of the Aging People in Prison Human Rights Campaign (APP-HRC). They had attended the United Nations' Regional Meeting of the Working Group of Experts for People of African Descent in Geneva, Switzerland in November 2017, where they made presentations about the situation of people who have been consigned to grow old, and in some cases live out their lives, in prisons, especially in the United States. Mama Tomiko made two presentations, and Baba Tryonne made one.  Toward the end of Baba Tyronne's impassioned speech, the moderators attempted to cut his microphone, but the attendees in the assembly hall heard his words nonetheless.  Their Report on their work and on the Regional Meeting can be found here.
Mama Tomiko, in her remarks at the Town Hall Meeting, noted how Osagyefo Kwame Nkrumah, first elected President of an independent Ghana in 1959, "saw the United Nations Organization as providing the most effective forum and machinery for small countries like Ghana to exert some measure of influence for peace and progress in the world … [and] saw the world body as a tool in the struggle against colonialism, neocolonialism, racism, and apartheid but also as a medium for social and economic development dedicated to raising the standard of living of all people, in particular countries of the Third World" (from Nkrumah's Foreign Policy 1951-1966, The Life and Work of Kwame Nkrumah).
She also quoted Ancestor Malcolm X, who had stated that "as soon as we lift it above civil rights to the level of human rights, the problem becomes internationalized; all of those who belong to the United Nations automatically can take sides with us and help us in condemning, at least charging, Uncle Sam with violation of our human rights." (1964 interview in Cairo after the Organization of African Unity Conference)
Mama Tomiko Shine, Baba Tyronne Morton.
Mama Tomiko made reference to those places where the oppression felt by Afrikan people and people of Afrikan Descent had gone on for so long that the oppression could be considered to be "inter-generational", and that, as a result, the cities where this condition predominates can be defined as Cities of Trauma in Afrika and the Diaspora. Some (but certainly not all) examples of such cities include Baltimore, Maryland; Kinshasa, DR Congo; Richmond, Virginia; Gary, Indiana; Detroit/Flint, Michigan; Port-Au-Prince, Haiti; Jacksonville, Florida; Monrovia, Liberia; Baton Rouge, Louisiana; Anacostia, Washington DC; Holmes County in Mississippi; Lome, Togo; Wilcox, Alabama; Abidjan, Cote D'Ivoire; and Camden, New Jersey.
She also pointed pout some of the challenges that tend to stand in the way of the advancement and uplift of Afrikan people: Poor Leadership, Illiteracy, Poverty, Incarceration, Lack of organization, Technological illiteracy, Underdeveloped Identities and behaviors and a basic lack of unity (which has often been described as the "Willie Lynch" or "Crabs in a Barrel" mentality).
Among the possible solutions to the issue of disunity, according to Mama Tomiko, are Institution Building (family, education, housing, food, economic, property/land); understanding the issues that impact on our ability to build these institutions and how to deal with them (through books such as Dr. Amos Wilson's Blueprint for Black Power and Les Leopold's Runaway Inequality: An Activist's Guide to Economic Justice); making connections between the Diaspora and Afrika through travel (which would require all of us to obtain and keep a current passport); recognizing those efforts being made on the Afrikan Continent to connect with the Diaspora in the spirit of Pan African Movement and Repatriation (such as Ghana's Joseph Project, which has made land available for Afrikan Diasporans to settle ion the Motherland); Youth Leadership Development (as discussed in works such as the Re-Awakening of the African Mind by Dr. Asa Hilliard); and overcoming our fixation with labels when they serve little purpose other than to divide us as a people, as often happens when the debate over what we call ourselves (Negro, Black, African/American or Afrikan) occurs.
Mama Tomiko suggests embracing the principles of Kwanzaa's Nguzo Saba (Umoja-Unity, Kujichagulia-Self Determination, Ujima-Collective Work and Responsibility, Ujamaa-Cooperative Economics, Nia-Purpose, Kuumba-Creativity, and Imani-Faith) a "pathway to Afrikan thought and practice in constant exchange with the world."
We hope to have more events at which APP-HRC and others who are doing similar excellent work on behalf of Afrikan people can share their information with the people. We anticipate that the future People's Assemblies will present the opportunity for much important information to be shared, and for real strategies to be developed that will assist our people in organizing for our own uplift.
A key component of the uplift of Afrikan people and the building of unity will be a change of attitude from many of our organizers, activists and would-be leaders. The inability of many of us to reject the organizational arrogance that leads us to insist that our way is "the only way" has often allowed this chronic lack if unity to continue. Instead, we need to realize that the only "only way" is one that embraces all of our major strategies together, developed in a cooperative way and executed in a strategic manner.
The following videos (which may need a few minutes to load, depending on your browser) from the United Nations Regional Meeting for People of African Descent in Geneva, Switzerland feature Mama Tomiko, Baba Tyronne and other participants at the Regional Meeting.  The first video includes two statements from Mama Tomiko.  The second video features Baba Tyronne's impassioned speech, in which the moderator appeared to attempt to shut off the microphone before he was able to complete his statement (though the attendees heard Baba Tyronne nonetheless).  The third video includes statements from a variety of other Afrikans and Afrikan Diasporans who attended the Regional Meeting and that bolstered the overall concerns of the people of Afrikan Descent in attendance.  The videos can also be found at the KUUMBAReport Web site Online at http://kuumbareport.com/2018/02/28/2272/.
[evp_embed_video url="http://srdcinternational.org/wp-admin/APPHRCGeneva2017MamaTomikoFullMP4.mp4″]
[evp_embed_video url="http://srdcinternational.org/wp-admin/APPHRCGeneva2017BabaTyronneEditedMP4.mp4″]
[evp_embed_video url="http://srdcinternational.org/wp-admin/APPHRCGeneva2017OthersMP4.mp4″]