STIMULATE YOURSELF .. INSPIRE YOURSELF .. EMPOWER YOURSELF .. READ!!
Establish PAN AFRICAN READING CLUBS!
SRDC Facilitators, Representatives, Observers, Council of Elders and Members  should familiarize themselves with the texts listed below.  As a suggestion, devote portions of your regular meetings  to a Pan African Reading Club involving discussion/analysis of the lessons and wisdom contained in the listed books.
BEGINNING READING LIST
•The Mis Education of the Negro – Carter G. Woodson
•Ghana: The Autobiography of Kwame Nkrumah – Kwame Nkrumah
Note: First published in 1957.  Re-published in 1971 with author's note to new edition.

•Meeting Maat: The African-Centered Handbook for Conducting Meetings – David Horne
•Philosophy and Opinions of Marcus Garvey – Edited by Amy Jacques Garvey.

•More Philosophy and Opinions of Marcus Garvey – Essien-Udom, E.U., and Amy Jacques Garvey.
London: Frank Cass & Comp. Ltd., 1977.
•Race First: The Ideological and Organizational Struggle of Marcus Garvey and the Universal Negro Improvement Association – Tony Martin
•The Pan-African Connection: From Slavery to Garvey and Beyond – Tony Martin
Cambridge, MA. Schenkman Publishing Co., 1983
•Marcus Garvey Life and Lessons: A Centennial Companion to the Marcus Garvey and Universal Negro Improvement Association Papers – Marcus Garvey (Author), Robert A. Hill (Editor), Barbara Bair (Editor)
•Africa for the Africans – Edward W. Blyden. Washington, D.C. 1872; reprinted, London, 1903
•African Life & Customs – Edward W. Blyden. Baltimore, MD. Black Classic Press, 1994
(First published in 1908. Reprinted from The Sierra Leone Weekly News)
•SBA: The Reawakening of the African Mind – Asa G. Hilliard, III. Gainesville, FL. Makare Publishing Co., 1997
•Black Inventors: Crafting Over 200 Years of Success – Keith C. Holmes. Brooklyn, NY Global Black Inventor Research Projects, Inc., 2008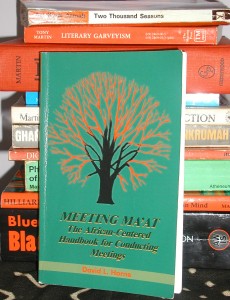 INTERMEDIATE & ADVANCED READING LIST
•The Cultural Unity of Black Africa – Cheikh Anta Diop, Chicago: Third World Press, 1959, 1978.
•The African Origin of Civilization – Cheikh Anta Diop, Lawrence Hill Books, 1974.
•The Destruction of Black Civilization – Chancellor Williams
•Consciencism: Philosophy and Ideology for Decolonisation – Kwame Nkrumah
•Neo -Colonialism: The Last Stage of Imperialism – Kwame Nkrumah
•Africa Must Unite – Kwame Nkrumah
•African Centered Consciousness vs. The New World Order – Amos Wilson
•The Falsification of the African Consciousness – Amos Wilson
•How Europe Underdeveloped Africa – Walter Rodney. Washington, D.C.  Howard University Press, 1981.
•African and Caribbean Politics: From Kwame Nkrumah to Maurice Bishop – Manning Marable.
London. Verso Press, 1987.
CHILDREN BOOKS
•Moja means One: Swahili Counting Book  – Muriel Feelings (Author), Tom Feelings (Illustrator)
•A is for Africa – Ifeoma Onyefulu.

NOVELS
•Two Thousand Seasons – Ayi Kwei Armah
(First published by East African Publishing House 1973)
•The Healers: An Historical Novel – Ayi Kwei Armah
(First published by East African Publishing House 1978)
PAN AFRICAN LIFESTYLE
•Lifelines:  The Black Book of Proverbs – Askhari Johnson Hodari, Yvonne McCalla Sobers
•The Adinkra Dictionary: A Visual Primer on the Language of ADINKRA – W. Bruce Willis
Washington, DC. The Pyramid Complex, 1998
"Africans need to re-learn to rely on Africans to solve African problems rather than to continue being dependent on non-African answers to everything." ~DLH

More to come….