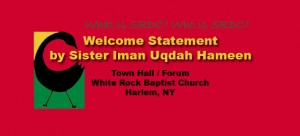 Sixth Region Diaspora Caucus wishes to thank all participants, speakers, organizations, naysayers and passersby for attending and eagerly taking part in the Jan. 30, 2010 Town Hall/Forum recently at White Rock Baptist Church, Harlem NY.
The following is the full text delivered by Sis. Iman Uqdah Hameen as the Welcoming Statement.
" Many of you ask- What is SRDC? Who is SRDC? SRDC, SIXTH REGION DIASPORA CAUCUS (Coalition) is a Pan African organization consisting of members from six (6) states in the United States and that list is growing. We are a four (4) tiered organization. We have a national Secretariat and a Community Council of Elders in each of the six states. We have members and chapters  in Europe, Canada, and Central America.  We hold forums, Town Halls and  Elections for Representatives and an Annual Conference. We are people who are seriously committed to a UNITED States of Africa and a liberated Africa that we will have an INTEGRAL , DECISION-MAKING part in.  We honor our Ancestors and our Elders.
You have seen many of us in the community. We are supporters, members and sponsors of many veteran organizations, your organizations. You may have seen us at Rev. Sharpton's NATL Action Network, African Nationalist Pioneer Movement, NAACP, Nation of Islam, All African People's Revolutionary Party, or The Black Panther Party – Old and NEW, and even the National Black Theatre, BAM, Jazzmobile, Liberty Lounge and Brooklyn's International Arts Festival and at lectures at UAM, First World, CEMOTAP, Dec. 12, African Poetry Theatre, or other places, not only in NY but across the country. We are Muslim, Christian, Akan, Fulani, Ewe, Ibo, Spiritualists, etc. We are Elders, Mothers, Fathers, Queen Mothers and Chiefs, professionals, students, social workers, professors, artists, architects, advisors, scientists, scholars, entrepreneurs, educators, consultants and laborers. We have protested with you, marched, attended lectures, forums, conferences, festivals, bus rides, parades, cruises and made trips to the Motherland. We have also been jailed! We've reached in our pockets, drained our bank accounts, retirement accounts and savings and donated to all of these causes without asking for receipts or a paycheck or your resumes.
We've added our voices to discussions and outrage, feeling the same barbs, jabs, stabs, gunshots, vicious attacks and deaths. We have cried the same tears as you, crying for Biafra, Malcolm X and Martin, Darfur, Sudan, the Congo, Elinor Bumpers, Rodney King, Thomas Sankara, The Honorable Elijah Muhammad, his son Imam Warith Deen Muhammad, Michael Jackson, Michael Griffith, James Hill, Nicholas "Ashanti" Bartlett, Elder Adunni Tabasi, Dr. Clarke, the Panthers, Mumia, Rwanda, South Africa, Angola, Grenada, New Orleans, Katrina and now Ayiti (Haiti).
And we cry for our, Mother Africa and all Mothers, and we cry and grieve deeply for our children, yours and mine. We cry with you because we are a part of the community. We are you.
Through it all we have rolled up our sleeves, through it all we have worked in our communities for years, many for our entire lifetimes, some in the forefront, some behind the scenes but the bottom line is we have worked.
So today we come again, seriously committed and ready to work along with you. And again, you see our faces among you.  We love you and we welcome you.  Roll up your sleeves!"
Sister Iman Uqdah Hameen is Co-Facilitator, SRDC New York Chapter.