Visit the Black Stax website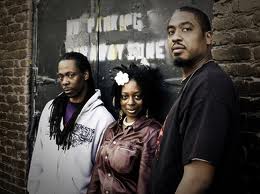 Black Stax is the avant-garde of Seattle hip-hop that released their debut album Talking Buildings on June 1, 2010.  Comprised of MCs Silas Blak and Jace ECAj and vocalist Felicia Loud, Black Stax creates an eclectic, urban sound.
Black Stax makes creative, challenging and emotional music with an injection of hip hop and 70s-era soul.  "Our sound is the soul of a songbird full of parables and riddles.  We speak to the streets, classrooms, clubs and community," explains Jace ECAj.  "It's more than hip hop, R&B or soul, it's more of a classic combination like Soul 2 Soul and Groove Theory or just dope ass vibe music," adds Blak.
A collaboration that works, Black Stax successfully blends musical genres and attracts a varied and supportive following.
Besides their unparalleled sound, what sets Black Stax apart is their ability to put on a memorable live show.  Individually they are veteran performers and collectively they are masters of setting a vibe and drawing in an audience.
Note: Felicia Loud is a member of SRDC and Jace ECAj is the Chair of SRDC Seattle, Washington's Youth Leadership and Young Adults Committee.