AFRICAN MORINGA:  Moringa is the earth's greatest source of nutrition, with more vitamins, minerals and
phyto-nutrients than any other gift from nature and has great use medicinally as both preventative and treatment.
"There is a Savior, a Savior that brings hope for a new life for people of Africa and the African Diaspora.  From Johannesburg to Nairobi from West Africa to the West Indies, from New York to Los Angeles, from Chicago to Houston, Africa's people are looking for the Savior.  That Savior is Moringa oleifera, the Miracle Tree of Life

Moringa oleifera is called 'Nebedaye', which means 'never die',  in many African languages; it promises relief from the devastiang diseases and malfunctions that are so rampant in the African and African American communities…"

Learn more about Moringa and purchase Moringa powder at:
http://www.sankofacollections.com/
https://www.facebook.com/sankofa.moringa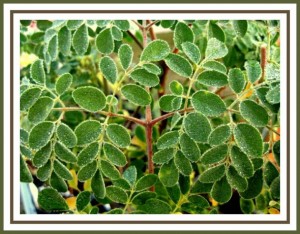 "The oil from the Moringa Oleifera nut was used by the ancient Egyptians. This extremely fast growing woody species (Moringa oleifera, Moringaceae)  could open up a new category of crops: "vegetable trees." It also produces masses of very small leaflets that are boiled and eaten like spinach. Being so small, the leaflets sun dry in just a few hours and can then be put in a jar and stored for the off-season, a time when dietary minerals and vitamins are often scarce. Moringa seeds could be employed to make water safer for drinking and cooking."
Moringa Tea

Use the tea bags or,  if you have a coffeemaker, just substitute moringa powder for coffee.  Use one teaspoon of moringa for every cup of water.  Spoon it in the coffee filter just like you would coffee and after it's brewed, you have a nutritious, stimulating & very delicious GREEN TEA beverage!  Add lemon peel and some raw honey for sweetener (if desired).
Moringa Powder for Shakes and Sauces!
The powder can be used to make traditional sauces as they do in Africa. Powder is also a powerful addition to blended drinks and shakes. Powder can also be added to soups and vegetable dishes to provide additional sources of vitamins, minerals and amino acids.
Moringa Sauce Recipe
Based on a traditional Senegalese Moringa leaf sauce called Mboum
5 Tablespoons of Moringa leaf powder
1 pound of butter beans
¼ cup of peanut butter
5 Tablespoons of oil, (vegetable, olive, canola or palm oil)
1 Medium onion – chopped
1 quart of water
Salt and pepper to taste
Red pepper or pepper flakes to taste
Add peanut butter and water and bring to a boil. Add the butter beans and cook for 20 minutes on medium heat. Add oil and chopped onion. Add Moringa Powder, cover and simmer for 20 minutes. Add salt and pepper and red pepper to taste. Serve over millet, rice, couscous or quinoa.
Moringa, Strawberry, Kiwi & Banana Smoothie
1/4 cup fresh strawberries
1 kiwi
1 banana
Add 1/4 cup apple juice
1 desert spoon of Moringa
Blend it all together, pour, drink, ENJOY!
Moringa Summer Energy Juice Drink Recipe
Fresh fruit and veggie juices provide an excellent source of natural energy.  Juice or Blend the following for a fantastic lift to your summer day.  Use organic ingredients where possible:
The juice of 2 Oranges
The juice of 2 Apples
3 Slices of Cantaloupe Melon
1/2 cup of Raspberries
1 cup Strawberries
1 teaspoon Moringa Powder