Baltimore's best kept secret has never been louder. The statuesque soul fusion teacher artist, Ms. Kim Poole, has emerged from Baltimore's underground music scene with a commanding presence. Her powerful sultry vocals and soul stirring storylines empowers women globally to celebrate their resilience and engage in cross-cultural communication thru music. Influenced by the musical styles of Gladys Knight, Chaka Khan, and Nina Simone and supported by her five piece band, her eclectic blend of Soul, R&B, Jazz, & the Blues together create what she refers to as soul fusion. Her professed "old soul" brings a refreshingly original, yet familiar energy to the stage in performances and a unique edu-tainment method to her "music is a tool" workshops. Promoting cultural heritage, self-awareness and love of community through interactive performances and workshops, Ms. Kim Poole is changing the face of music worldwide and leading the teacher artist movement in her own right.
–from the Kim Poole Music Website, http://www.kimpoolemusic.com/
Ms. Kim Poole has coined the term "Soul Fusion Teaching Artist" to describe her focus, and the term is most appropriate.  But she is not only a Teaching Artist, she is also a community activist who uses her art, music, as an organizing tool.  Through her Teaching Artist Workshops and the Teaching Artist Institute which was officially founded in 2015, she is spreading the understanding of the healing and empowering nature of the arts to established and aspiring artists to ensure that their craft enriches not only their careers but also the communities they serve.  Ms. Poole is affiliated with the Maryland Organization of the Sixth Region Diaspora Caucus.  Thanks to Ms. Kim Poole, the discipline we all know as "The Arts" is assuming its rightful place as one of the critical Spokes of the Wheel of Pan-Afrikan Unity and Uplift.
More from her website:
TEACHING ARTIST WORKSHOPS
MISSION: "Music saves lives, I'm singin' for my life"
What is a Teaching Artist in the Kim Poole Experience?
A teaching artist is one that recognizes and understands the influential nature of their art and uses it to promote a value system or subject matter as an entity in and of itself or as tool integrated into another discipline. A teaching artist is a way of thinking, being and an approach to engaging others in expression.
Kim Poole, "A Teaching Artist"
"As a singer songwriter, I am just as passionate about live performance as I am composing a composition", Ms. Poole says.  "However, it is the development of composition, melody and lyrics that has inspired me to become a Teaching Artist.  Many songs that I write are just the pages of my diary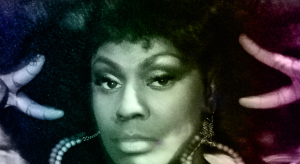 and personal artistic expression.  However, increasingly I use music as a more purposeful tool of empowerment and peacebuilding for a global audience.  Throughout my artistic development, I have learned from the lyrics of a musical lineage that serves as the soundtrack to my life.  These artists and their songs are the inspiration behind the teaching artist component of my craft today.
"With my art comes a level of responsibility because music is sublime. Through the Kim Poole Experience I realize that music is the most powerful tool for empowerment and peacebuilding because it's the only force in existence that can teach or heal someone without their knowledge or consent.  Music is an education for the soul.  Walt Disney said 'I would rather entertain and hope you learned something.'
"However, I would rather aim to teach and hope you were entertained because Music saves lives, I'm singin for my life."
-Teaching Artist Workshop Offerings –
MUSIC AS A TOOL FOR SOCIAL CHANGE
MUSIC AS THERAPY
MUSIC AND WOMEN'S EMPOWERMENT
MUSIC FOR PEACEBUILDING & CONFLICT RESOLUTION
Do you want music integrated into your lesson plan, professional development team building, or creative communication platform etc., Let's Do it!
THE TEACHING ARTIST INSTITUTE 
In December of 2015, the Teaching Artist Institute was launched with a Retreat that was held at Coppin State University.  Artists and activists from Maryland and across the United States met for the two-day session that featured workshops, discussions, demonstrations and video links with artists in Nigeria.  With connections throughout the Afrikan Diaspora, the Teaching Artist Institute and Soul-Fusion Teaching Artist Kim Poole are poised to make their contribution and leave their mark on the global effort to bring healing, knowledge and uplift to Afrikan people and to the world at large.  For Ms. Kim Poole and her groundbreaking Teaching Artist Institute, the sky truly is the limit.