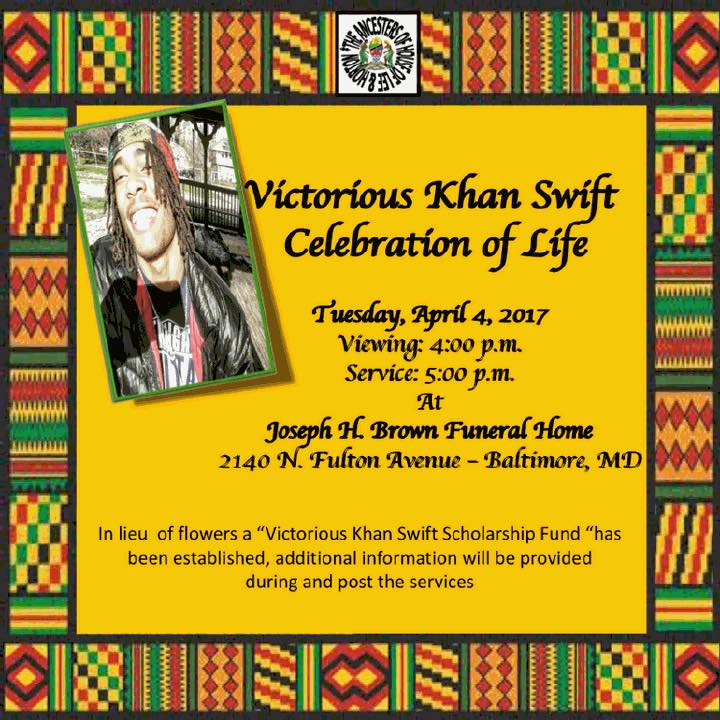 In the early morning hours of Sunday, March 26, 2017 (6257 according to the Calendar of our Ancient Afrikan Ancestors), one of the young bright lights of the Harriet Tubman City/Baltimore Community was suddenly extinguished.  Brother Victorious Khan Swift, only 19 years of age, was shot near Reisterstown Road and Tioga Parkway as he was headed home from the recording studio where he often honed his craft as a local musician.  He was apparently the victim of a random robbery that suddenly turned violent.  The young artist, singer, actor, boxer and community activist, who was known for his engaging smile and his willingness to share with and support other young people in the Pan-Afrikan Community through the Baltimore Algebra Project, the Nu Generation Art Ensemble, the Umar Boxing Center, the Urban Youth Initiative Project (of which he was a graduate) and other community organizations, was preparing to graduate from the Baltimore Design School in the following weeks and will be sorely missed by those who came to know him.  This senseless murder has sparked calls for anyone with information on the shooting to notify authorities as well as for community groups to seek out ways to stop the scourge of violence that has claimed too many promising, young lives.
Special thoughts and our most sincere prayers go out to his six siblings and his Mother, Mama Victory Swift, who is the Founder of the Tubman City-based Afrikan Heritage Walk-A-Thon, has been a longtime member of the Tubman City Community, is a strong supporter of several local Pan-Afrikan organizations including the Pan-Afrikan Liberation Movement, the Teaching Artist Institute and the Maryland Organization of the Sixth Region Diaspora Caucus.
His case has been reported by local news affiliates WJZ CBS Baltimore, WBFF Fox 45 and the Baltimore Sun, among others.
In lieu of flowers, a Victorious Khan Swift Scholarship Fund is being established, and a GoFundMe Campaign has also been launched to assist with expenses for his memorial service.
We invite members of the Conscious and Pan-Afrikan Community to come to the Celebration of Life of Bro. Victorious Khan Swift, to be held Tuesday, April 4 at Joseph H. Brown Funeral Home, located at 2140 North Fulton Avenue, with the Viewing at 4:00 PM and the Service at 5:00 PM.
Mama Victory Swift has posted remembrances of her youngest son, Bro. Victorious Khan Swift, on her Facebook Page.  We invite readers to visit her page, to check out photos, videos and tributes to him, and to share your condolences and prayers with Mama Victory and the Family.