On Saturday, April 14, the second Pan-African Town Hall Meeting of 2018 was held at the historic Arch Social Club, located in the Penn-North neighborhood of West Baltimore. The Town Hall Meetings were originally started in Maryland in 2007 by the Sixth Region Diaspora Caucus to bring the grassroots Afrikan-Descendant community in Maryland together, hear their concerns, share SRDC's plan for establishing the Diaspora's voice in the international arena, and establish a representative delegation from the state of Maryland that would include Representatives (from whom might come Diaspora Representatives to conferences of world bodies such as the African Union), Observers (who would take the place of Representatives in the event they are unable to continue) and a Council of Elders. Other states where this plan has been put into motion follow a similar procedure, holding their own Pan African Town Hall Meetings as they are able.
From 2007 to 2016, the Maryland SRDC held Town Hall Meetings at a rate of approximately one or two per year. In the year 2017, SRDC picked up the pace in Maryland, holding five between June and December. At the December Town Hall, a Maryland Council of Elders (MCOE) was nominated and confirmed. In 2018, there have been two Town Hall Meetings held, the April 14 session being the second. They are now co-sponsored by SRDC and the MCOE, with the MCOE's chair, Baba Rafiki Morris, presiding over the sessions.
The April 14 meeting invited several speakers to make presentations. Bro. Dayvon Love of Leaders of a Beautiful Struggle (LBS) spoke about the recent legislative effort around a Comprehensive Crime Bill which was largely defeated by opposition from activist organizations and the Legislative Black Caucus (though the Democratic Party leadership was able to "sneak" some key provisions into an unrelated expungement bill). Bro. Thomas Ruffin of the International Coalition of Black Lawyers also spoke about the Crime Bill, but also about the need to increase the pressure on local legislators and politicians to force them to enact policies that benefit the community instead of injuring it. Rev. Dr. Mankekolo Mahlangu spoke about her experience as an activist and freedom fighter in /south Africa in opposition to the apartheid regime and gave a tribute to recent Ancestor Winnie Mandela. And Baba Mukasa Dada (Willie Ricks) spoke about the history of revolutionary resistance.
This was perhaps the most successful Town Hall Meeting in the 11 years in which SRDC has worked to organize in Maryland, with members of a variety of neighborhood, civic and revolutionary organizations in attendance. This article will provide details on the presentation about the Maryland Crime Bill by Bro. Dayvon Love of Leaders of a Beautiful Struggle (LBS), and perspectives on taking control of local and state legislative politics by Bro. Thomas Ruffin of the International Association of Black Lawyers and the Maryland Coalition for Justice and Progressive Change.
Bro. Dayvon Love, Director of Public Policy, Leaders of a Beautiful Struggle (LBS)
"We are a grassroots think tank that explicitly advocates for the interests of Black people in the political arena.
"I'll just talk a little bit about our fight against the Crime Bill … and I'll talk a little bit about the work with the Baltimore City Youth Fund.
"In terms of the Crime Bill, this past summer, there was an effort in Annapolis, and a lot of our legislative work takes place in Annapolis. There was an effort in Annapolis in response to the high homicide rate in 2017 to develop this comprehensive package on crime. And one of the things we know throughout history, particularly in the 80's and 90's, is that the typical response to crime was to increase the length of time that folks are incarcerated, throw more people in jail. And we have essentially a couple of decades of data that shows that just throwing people in jail not only doesn't solve the problem, but actually makes things worse.
"And we anticipated that there were going to be a bunch of 'tough on crime' measures that would come down through the political establishment and leadership, and so we knew that one of our legislative priorities this session was to fight back against any type of 'tough on crime' policies, particularly those kind of policies that focused on mass incarceration."
The Original Comprehensive Crime Bill: SB 122
"So, what ended up happening, the session began, the Governor introduced three pieces of legislation. One piece of legislation increased mandatory minimums from five years for a crime of violence with a gun … to a mandatory ten, and wanted to increase the maximums from 20 to 40. He also introduced a piece of legislation that made it so that juveniles were automatically charged as adults for a series of crimes. And he also introduced a piece of legislation that had what were called 'gang statutes'. So, attempting to throw more time on folks who they thought were affiliated with a gang."
The Promotion of the Crime Bill through the Maryland Senate
"So what ended up happening, we have a Republican Governor, but our Legislature, State Senate and House of Delegates, are controlled by the Democrats. So you have [Thomas V.] 'Mike' Miller who is in charge of the State Senate and you have Speaker Michael Busch who is in charge of the House of Delegates.  What happened on the Senate side was that Bobby Zirkin, who was the chair of the Judicial Proceedings Committee — he is a Democrat who represents the area of Baltimore County that is Pikesville-Owings Mills. What he did was he took pieces of the Governor's packet and mixed a bunch of other measures in. Measures that he thought might make folks like us and other organizations satisfied. So he included funding for programs like Safe Streets. But he combined that with some of the measures around increasing mandatory minimums. And so Zirkin created this bill that was Senate Bill 122. So the Governor supported it after they pieced it together. It was pieced together in a back room.
"So, every bill has to have a hearing when it comes from the Legislature. What [Senator Zirkin] did was that, after the Governor's bills were heard, he took an unrelated bill — so Senate Bill 122, when it came into the Legislature, was a completely different bill. What he did was, he amended the bill to change the name and change what it did, so that by the time it got to the Senate floor, it was this Comprehensive Crime Bill. So we didn't get a chance to actually speak out against the bill. We spoke out against the Governor's bills, but he manipulated the procedure in such a way that we didn't get an opportunity to testify against this particular bill. It flew off the Senate floor quickly, and so then it was in the House."
Criticisms of SB 122
"So, there are a couple of problems I want to outline in terms of how we should address crime. Because, the thing that we kept getting was, if this isn't the way then what is the way? And so, there are a couple of things that we put forward. One of the things was, we said, if you talk to a police officer, most police officers know who the people are that are driving by [and shooting]. The issue is that the police department is inept and corrupt in terms of their ability to actually get good charges on the people that folks know are committing violence in our communities. And as many of you are aware of the Gun Trace Task Force, they founded that unit within the police department that was robbing people, planting guns on people, selling drugs. And so, a part of what we said was, if you really want to address violence, you have to address the police and the ways in which, in many ways, they increase crime, contribute to it, and have a police force that can actually make people feel confident that witnesses will be protected. So those are the two things that we said, that plus investments in things like Safe Streets, community-based anti-violence programs.
"So our argument was, if you're serious about addressing crime, those are the things that we should do. The other problem is [with] increasing mandatory minimums from five years to ten. What we argued was that increasing those sentences, you're not going to get the people [who are] doing violence. You're going to get the people on the periphery. The people that just happen to get caught up. And those are the folks that are better served outside of prison, outside of incarceration.
"So that was the big push in our criticism as to why this crime package was problematic. And again, what Zirkin preserved in his version was the increase in mandatory minimums from five years to ten, and increasing maximums from 20 to 40."
SB 122 Meets Opposition in the House of Delegates
"So it got over to the House. It went through an arduous committee process. The Black Caucus — for those who don't know, Maryland is a third Black — we have out of the almost 200 representatives, we have about 55 representatives. So there is a pretty substantial Black Caucus. To the Black Caucus' credit, they took an official stance against the Crime Bill. And when they took an official stance against the Crime Bill, the Latino Caucus followed suit and took a stance against the Crime Bill. And so that functionally killed the Crime Bill in the House. So it was a big victory. It was one of the few times the Black Caucus used its power in order to do something in the interest of Black folks. We look forward to working with the Black Caucus in the future to cultivate that power."
Democrats Sneak Pieces of SB 122 through the House
"What the leadership did was that this was the Thursday of the week before Session. The Democratic Party leadership had a closed-door meeting with the Black Caucus, trying to force them to change their vote. Fortunately the Caucus stood strong, and decided not to change their vote. So what the leadership did was that they took a piece of the mandatory minimums provisions in the bill that we killed, put it in an unrelated expungement bill, so the piece about increasing mandatory minimums from five years to ten years, they amended it onto an unrelated bill on the floor of the House and rushed it through, all in the same day. So there were legislators who who had not even read the updated bill because they just pushed it so quickly."
Pushing Back Against the House Maneuver
"And so, we're going to approach some lawyers to try, because one of the things is that we think they've violated the Maryland Constitution. You're not supposed to be able to amend a bill on the floor in a way that makes it different than how it comes into the Committee. So we're going to try to have some litigation, at least to let the leadership know that they just can't change bills around.
"So overall, we were successful in stopping Senate Bill 122 but they were able to get that one piece and provision in there. We were able to stop the increase in the maximums. But I think it was a really good show of of force and power of the Black Caucus in the Legislature which typically they don't use very often. But it just goes to show the kind of power that they have."
The Baltimore City Youth Fund
"Quickly, on to the Baltimore City Youth Fund: the Youth Fund was voted in, by the voters, in November of 2016. Three percent of the City's budget goes into a fund specifically for children and youth that amounts to about $12 million a year. Adam Jackson, who is the CEO of LBS, was the co-chair of the Task Force. The Task Force outlined the framework, because the voters who voted on the Youth Fund voted on its existence, but there wasn't a specific structure that went along with it. So the Task Force was responsible for developing the structure by which the Youth Fund would be produced.
"We were very clear that we wanted these dollars to go to organizations that traditionally don't get the dollars. One of the things that we've been very big critics of is the Nonprofit Industrial Complex in this town and the way that the White-led big-box nonprofits suck up all the money and create a dynamic where, unfortunately, a lot of folks that are doing the work don't have the resources to sustain the work at a level that can properly serve our communities. So we just had a series of design sessions. We're going to be in the process of recruiting folks in the community that are going to be a part of the process of making decisions about where money goes.
"And a Request For Proposals will be going out towards the end of May. The onboarding of residents for making decisions about the Fund will happen around June. Decisions about the resources will be made towards the middle to end of July. And money will start flowing in the fall.
"So those are the two major efforts that we've been working on."
Questions and Answers
Q: How does LBS determine organizations to receive funds through the Youth Fund?
A: "A part of what the task force decided was, you have a lot of folks that are typically in the position of making decisions that are like non-profit professionals, people whose credentials come from whatever academic schooling they went through. Or their relationships to the corporate sector. What's very explicit in the task force is that people who are making decisions about money are people that are practitioners, people that are in close proximity to the community, people that have immersed themselves in the community in such a way that they have an understanding of the assets and strengths that exist in the community and in the neighborhoods. So that's the general frame that we're looking at. Trying to challenge the way in which folks who have good ideas, who have been around for a while, people who understand the community … get shut out of the process. So that's the overarching piece, but we're still in the process of, and we'll probably have it by the time the RFP comes out, we'll have point by point, exactly what those criteria will be."
Q: Why is the community so involved with Crime Bills but they don't go to the root of the community? What about those of us who are seniors or others who are afraid of crime? Why not build a new police station at Pennsylvania and North Avenues to clear the criminal element from the very corner where this establishment, the Arch Social Club, is struggling to survive and thrive? Victims of murder, assault and home invasion are being overlooked. Problems that cause people to go to jail are not being dealt with. What about the "little person" who is a victim of crime and who is afraid to testify against criminals?
A: "Three things. The first is that when Martin O'Malley was elected mayor and there was a time of unprecedented violence, he ran on a tough-on-crime approach. Part of the problem wasn't to address crime. The problem was that politically, he was giving our community two choices: more police or less police. So a big part of what we've advocated for are community-based anti-violence programs where you take people that were formerly involved in that, people who are credible messengers, and have them be at the front line in terms of resolving a lot of conflicts. I've been involved with a lot of young people who have been engaged in violence, but it wasn't people who were hardened criminals. These are people that don't have the networks, they don't have the support system necessary to be able to address those conflicts before they escalate into what they become. And you just have a lot of young folks that don't have mentorship, don't have people in their lives. … So this isn't to excuse folks who engage in those acts of violence but I think there's one piece of it where police should be like the last resort. And a part of why it was important for us to do the Youth Fund work is to direct resources to people that will be better at getting people from committing these acts of violence. Safe Streets and other programs like that.
"So that's one piece. Another piece is that, you mentioned witness protection. I testified in front of the [Legislative] Committee, saying that increased resources to witness protection would go a long way. So when I talk to police officers off the record, the thing that all of them consistently say is that, if they could just get witnesses to go to the [witness] stand [and testify], they would be able to put away a lot of the people they know are committing the murders. When I talk to the legislators about investment in witness protection, what they say to me is 'Dayvon, that's just a political fight that I don't know that we can win.' And of course, my response back to them is, 'Well, if you're serious about addressing violence, that's part of the fight that has to be made.' And they're talking about dollars. Dollars that go to witness protection. … This year, the city of Baltimore is going to break half a billion dollars in investment in public safety. So to me, there's no reason you can't take some of that $500 million and put it towards witness protection so that you can get the folks who are actually committing the crimes.
"And then lastly, one of the things in Annapolis, you're dealing with legislators [for whom] being in Penn-North is foreign to them, so they don't really understand the dynamics. And so one of the things we try to explain to them is that we're all concerned about crime and violence. Increasing the time a person has to spend in jail from five to ten, that doesn't deter crime. What that does is, it produces more people that are exposed to the criminal element [in prison] longer. What the studies suggest is that the certainty of getting charged, arrested and incarcerated is a bigger deterrent to crime than the length of your sentence. So you can say that you're going to get 15 years. that's less of a deterrent than the certainty of getting caught. So one of the things we said to the Committee and to the Legislature is, if you really want to address crime, then you have to address the police ability to get the folks that are committing the crimes. And to be honest, what we said to them was, increasing the sentence is a political ploy to get the White folks in the County to feel good without actually addressing the problem.
"And one other thing I also want to note. The first quarter of this year, from [the first quarter of] 2017 … homicides are down 30%. And that's important, because what's going to happen is, the Legislature is going to try to claim credit for it [when crime goes down]. So it's really important for people to know that the efforts that a lot of people in this room are engaged in are the efforts that are actually having an impact, not the efforts that the leadership is going to try to take credit for."
Q: With regard to the strategy of the passage and resistance to the Crime Bill and the political strategy of developing programs to stop crime and prevent our children from becoming cannon fodder on the streets, how do you envision a "clean" way to ensure that our children are employed and have a vision of a future beyond what exists now? Especially since the oppressor does not want to discuss that? With some 50% of 18 to 24 year old Afrikan American males in Baltimore unemployed, how do we prevent that reality that our oppressors don't want to discuss and is the real driver of crime? What kinds of programs, besides Safe Streets, are you talking about for our children?
A: "Two things. One, to the political part of the question. One of the adamant supporters of the Crime Bill was the Greater Baltimore Committee [GBC]. For those who don't know, that's the collection of corporate White power in Baltimore City. It's interesting, because earlier last summer, we were fighting the City Council, [which was] trying to push through a bill where just the possession of a firearm gave you a mandatory one year [imprisonment]. That's coming from the GBC. The GBC has their eye, as many people know, on gentrification. And the homicide rate last year, for them, was an inconvenience in terms of their efforts at trying to gentrify parts of Baltimore City. So that's a big reason as to why it became such a big issue. What that also speaks to, to your point in terms of a comprehensive look at the problem, the GBC has been an opponent of major efforts around employing Black folks, and has been a major barrier in terms of sharing economic power.
"An example of that is that it took the [April 2015] Uprising [after the death of Freddie Gray in police custody] for them to even begin to discuss things like expungement for a lot of people that had criminal records. And one of the big barriers to getting gainfully employed is having that record. Nicole [Mundell] is the Executive Director of Our For Justice, who works directly with folks who have been through the criminal justice system, and who has worked for years to try to get the Legislature to consider expunging records. You think about someone who did something when they were in their teens, now they're in their 40's, still have this record and can't get a job. And the GBC, it took the Uprising for them to even start discussing it, but expungement legislation is extremely hard to get passed down in Annapolis, because a lot of those lawmakers see that 'those are criminals; why are we giving criminals another chance?', instead of understanding that a lot of people who have records, if you think about what the Department of Justice, what a bunch of organizations have found, is that a lot of people get pushed through the criminal justice system and have a record, just because the police were over-policing. So really getting them to understand that is a big piece of it, dealing with folks that have criminal records.
"In terms of the larger picture, I think it's really about sharing economic power. And taking it. Which is a much bigger and larger fight. … And that's why we did the Youth Fund, it's a small example of taking resources and being able to control them and invest them in our community. Our hope is that we can take that model and it can be in other processes, other government agencies. So that, say, with [the Department of] Housing and Community Development, there are a lot of issues with Park Heights and the slots money, so taking that process and putting it there. Our hope is that this process will become a means by which other agencies will have to be able to spend money in a way that [resources] will actually get to the community."
Q: Even with expungement, there will still be gaps in a person's employment that will lead to questions from employers, so the discrimination will continue. Second, we have to get through the issues of relationships with legislators and lobbyists. Third, we need to address the underlying traumas, the "adverse child experiences" between the ages of 2 to 7 years, as well as traumas to families and family systems. Groups like the Center For Urban Families (CFUF) are also working to deal with these issues as progressive 501(c)3 nonprofit organizations that are [often excluded from the Nonprofit Industrial Complex and are] looking for funding. Who are you looking at partnering with and directing resources to in order to change the paradigm?
Q: How about the traditional Black Cultural Organizations like the Eubie Blake Cultural Center, the Great Blacks In Wax (GBOW) Museum and the Reginald F. Lewis Museum, which have been underfunded in this "separate-but-equal" government infrastructure in Maryland? Historically Black Colleges and Universities (HBCUs) had to sue because of unequal funding. Cultural organizations have also been denied millions of dollars in bond money every hear from the city and the state that has gone to the Baltimore Museum of Art, the Maryland Science Center, etc. Cultural tourism is a big part of economic development, particularly for the Black community to the extent that we can build up our cultural institutions and create jobs and economic opportunities, something many of us would be interested in working with you on through the task force and associated committees, as well as having you work with us in our efforts. Have you looked at a pathway for gifted and talented Black students in this city to pursue to actualize their talent through Black Cultural Organizations like /eubie Blake, Reginald F. Lewis and Great Blacks In Wax? There isn't currently a pathway for students who are not coming out of the School for the Arts to actualize and realize their talents.
A: "In terms of the specific pathways, one of the things I'd be interested in talking to you further about, one of the things that happened at the beginning of the [Legislative] Session is that the Baltimore City delegation will look at capital improvement projects. On the budget, the governor usually gives delegations a certain amount of capital dollars for infrastructure development. Actually, in the 2017 or 2016 Session, I began to notice that they would have [funding for] Walters [Art Gallery], B&O [Railroad Museum], and Black institutions were absent from that list, and in fact there were some legislators that actually brought it up. So I met with the Director of Planning around that question. There's a Sista that works in the Department of Planning. She and I have talked about, maybe next year, looking at how we can make sure things like Eubie Blake, Arena Players and others are in that list of entities that get capital improvement projects. Unfortunately, how it works is kind of an insider system, so the people who know who to talk to and have folks inside the legislative process automatically get stuff put on the list that get capital dollars. But I think it's certainly something to explore, probably in the summertime, to establish a group of folks to look at what capital needs there are so we can go early to our legislators and have them put those things on the queue."
Q: About the Crime Bill, the parole system in Maryland is really messed up. As you look at amending crime legislation, you also have to look at parole, because people can't qualify for parole because of some of those felony convictions. The other issue is the "Ban The Box" legislation. It should also be part of the reform effort because you can't even get an interview if you have to check that box that you've been incarcerated.
Q: How would you compare your work to that of the Lowndes County Freedom Party in terms of getting things done?
A: "I'm finishing a book where I'm talking about Ella Baker's style of organizing. And one of the things that we encounter in our work is that we have two major paradigms: the Industrial Areas Foundation, more of a Saul Orlinsky-based organizing, and what we call the Ella Baker paradigm of organizing. One of the differences is that we, because of our relationships to folks in our community, identify strengths, identify institutions and organizations that are already currently doing work, and our methodology is to connect with folks that are doing work and to have our specific lane in the realm of Policy. So to that extent we're different in the sense that we've picked a particular lane … in terms of addressing public policy, but we borrow a lot in terms of the idea of building connections and relationships to organizations that are in our community that already exist, not feeling the need to create new organizations all the time. But try to connect the folks that are already doing work and to build power based on the strength that already exists in our community as a way to expand to larger communities. So, that's the 90-second version of a question that takes a long time to answer.
"I'll give you an email address and a phone number. Email is info@lbsbaltimore.com; that's the best way to get us. Our phone number is 443-838-3773."
Bro. Thomas Ruffin, International Association of Black Lawyers and Maryland Coalition for Justice and Progressive Change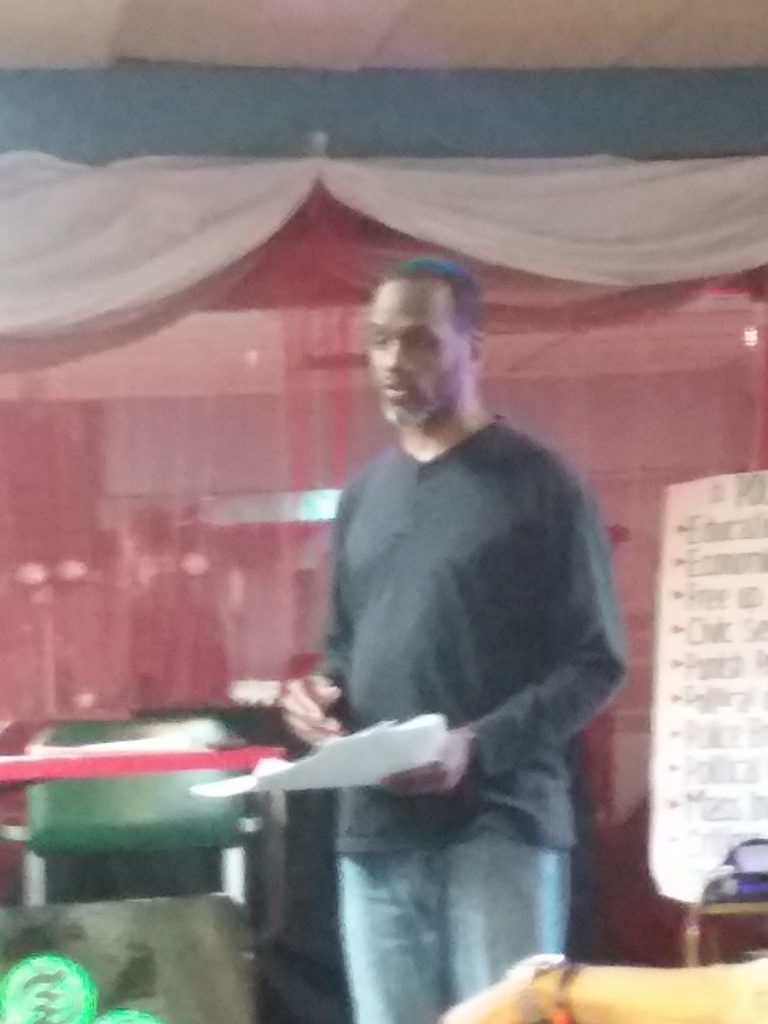 "I'm one of the members of the board of directors of the International Association of Black Lawyers, and I'm the legal counsel for a small group that's called the Maryland Coalition for Justice and Progressive Change. One of your friends and colleagues, Rev. Annie Chambers, is the Chairperson for the Maryland Coalition for Justice and Progressive Change, over in East Baltimore. And I certainly appreciate the gathering of the Pan Afrikan Town Hall Meeting … and also the work of the Leaders of a Beautiful Struggle, and what Dayvon had to say.
"And one thing I want to disagree with Dayvon is, while he was putting a wonderful analysis over the struggle against the Maryland Comprehensive Crime Bill and the effort that changes it from Senate Bill 122 to a watered down version, what I believe to be Senate Bill 101, I want to say that we failed. I truly want to say that we failed. And I don't want to talk about it as though we can live with the failure.
"What I want us to think about is this: In about 28 to 37 years, the majority of the people inn this country will be non-White people. In other words, White people, of European descent, will then be a minority compared to all the other races gathered together in this society. However, the genocide that's being worked on us right now is such that, when we acquire the majority in terms of numbers in the population, we still won't be in control of this society. White capitalist supremacy will be running it, and they mean to keep running it.
"Let me add on to that. If we think smartly about how we're going to address that, and over the next 28 to 37 years we figure out how we're going to oust White capitalist supremacy from being in power in this society, quite frankly, the way we've been so horribly oppressed and miseducated, we wouldn't know how to run this society or its governance. I'm just being frank.
"Now, let me add on to that. If, in the next 28 to 37 years, we figured out all of that, that is, how to get rid of these devils, how to run the society, the economy, the health care system, how to provide for our well-being, how to provide for our uplift, these White capitalist supremacists wouldn't stay here and be under our rulership. They will leave and go elsewhere.
"And so, then we have this other problem. Right now, the federal government — I'm not talking about the state government and municipal government, but the federal government in this society — has a debt of $21 trillion. In about 28 to 37 years, that debt could be double. It could be more than that. So, I'm actually estimating that it would be probably about $40 trillion, making a conservative estimate. So let's say we oust them. We take control. We know how to manage the society, that is, how to govern. We know how to do it where they have failed us, or actually deliberately succeeded in oppressing us. We can turn that around. We would still be in trouble with this enormous debt that that they or some other society in the world would demand be repaid because they would be the holders of the debt. They would be the creditors.
"In other words, we would still be under their yoke, and — we were talking about South Africa. The society in South Africa, when they overthrew apartheid White supremacy, two things changed in that process. Just before that took place, the White people dismantled their nuclear weapons. In other words, they anticipated our taking control. So they did not want us to have nuclear weapons. And there's a lot of different ways that can be interpreted but I'm just going to keep it to that one, because all this stuff they said that they thought that a new society ought to be cleansed of the evil of nuclear weapons didn't apply to them when they were running the society, so I'm just saying they made sure we wouldn't have nuclear weapons.
"Number two, the debt that they amassed in oppressing us stayed in place when we took over. That's going to be our circumstance unless we figure out how to deal with it.
"Now, how can we deal with that, how can we figure it out, when they deliberately underfund our four historically Black universities in this state, and we argue about 'well, why in the world are we freeing Black men who are thugs in prison?', while they keep us divided so those men, who ain't Black politically speaking, they get locked up, and then we get divided in our society between different groups that are struggling with each other, in competition for wealth and power, while they [White capitalist supremacists] maintain [the] wealth and power?
"So what I'm trying to say is … what we're dealing with here, we've rhetorically described many times as genocide. But the truth is, that's exactly what it is. In this state, there are about six million people. Twenty-nine percent of those people in this state are Black people of Afrikan descent. But we make up 71% of people in Maryland state prisons. See, that doesn't make any sense. And when they talk about being tough in crime and tough on gun violence, let me add on to this.
"First of all, the greatest threat by way of killing in this society, when you take out warfare and you take out abortion … is suicide. It's not 'Black-on-Black crime'. It's not even murder. As a matter of fact, when you break down suicide, the greatest threat in this society by way of killing is White male suicide. More White men each year kille themselves than all the homicides in the society put together. Yet, they come together smartly in oppressing us to aim us at fighting crime, which means fighting us, but they don't address this White male suicide problem." [Editor's note: We looked up the official death statistics in the United States, and sure enough, the number of suicides is three times the number of murders in the United States every year.]
"As a matter of fact, just think about it. … If Dayvon was the Speaker of the House, and I was the President of the Senate, and the Governor started talking to us, I'd say 'You know what we're going to do? What we're going to do is, we're going to have a prophylactic, so whenever a man loses his wife to divorce, or loses his children in a child custody battle, or whenever he is about to lose all of his wealth through a financial collapse or the loss of his business, that man … is going to be put in a mental health facility for two months for observation. That's going to be a prophylactic against suicide. Because we have a horrible problem in this state with male suicide. And by and large, most of the people who will be locked up … will be White men.  See, we don't talk like that, but they do. They literally do.
"In that Senate Bill 122, [we say], 'should we really fight against something like that? That's fighting crime, and crime is right here on the street.' Everybody's seen it; people nodding on that heroin. If we came in here and parked our cars, we're hoping our cars are still intact. We can go all through that. And, like I said, they are not, politically speaking, Black. But Governor Hogan ain't Black. … Tom Miller ain't Black. … These people never will prescribe an answer for our problems. This lady [in the audience] rhetorically said, we have to answer our problems ourselves. I'm saying for real, we literally have to answer our problems ourselves or these problems will beset us until the end of time. And that's what's prescribed for us, for us to suffer like this until the end of time.
"We Forgive Everybody"
"So let me go on, because I just want to be clear. When Dayvon said that the Leaders of a Beautiful Struggle were observing what the Maryland General Assembly might do before the General Session started, and then they saw all these Crime Bills and saw them flip up, where were the two members we know to be Black in the Senate Judicial Proceedings Committee? One was running for County Executive in Prince Georges County, and the other I believe is running for State Attorney General. Victor Ramirez — well, I call him Black — he's running for State Attorney General. Anthony Muse is running for County Executive. And when they are running for a high ranking position in the police state, they're not serving us. But even if they are … they should have been mobilizing, at the least, the Black and Hispanic Caucus against this. See, that's where we fail. The Leaders of a Beautiful Struggle are in there fighting against this. They should have had more and we should have been there. … They should have brought us in, and we should have been chasing them down to be there. We ignore Annapolis every single year, and it's only three months. We ignore it like it's way away. I've seen people in Baltimore march at Town Hall over a problem that's only resolved in Annapolis. And it doesn't make sense. I've seen us get flipped by these fakes who are in the Black Caucus, whether it's local or statewide — same thing happens nationally — and we keep getting flipped. And we act like that's not the problem. No. It's a serious problem. So, let me just take us to what I've passed out."
Bro. Thomas now referred to a listing of the votes in the House of Delegates and the Maryland Senate on Senate Bill 101, which was the parts of the original Comprehensive Crime Bill (Senate Bill 122) that were repackagedand finally passed in the Maryland Legislature.
"If you look at it, the first page is the vote on Senate Bill 101. If I'm not mistaken, Senate Bill 122, the Comprehensive Crime Bill, ultimately became Senate Bill 101. That was a watered down version of what Dayvon was talking about earlier. And what Dayvon talked about earlier, he didn't even touch on it. This thing is so dastardly, this is what they wanted to do. … They wanted to outlaw drug treatment for those who are locked up for a violent crime. Now, I want to get this straight. I beat you because I'm a heroin addict. I'm a fool on heroin. I've skipped ever being Black. I beat you. You survive. … I've got five years. For that whole five years, I'm in prison, and I don't get drug treatment. I don't even get diagnosed to see if I have a drug problem. And I'm walking in, asking for heroin. I'm looking for fentanyl. I'm begging for Vicodin. And you're beat in bed. And they don't address, what you say, the root cause of the problem. No, no, no, they ain't doing that! … That piece of shit [bill] was just what it was, a piece of shit, and we got divided over their piece of shit, rather than planning for what we ought to put through the Legislature. And if the poor folk [in the House and the Senate] won't put it through, we get them another job [by voting them out]. See, we don't operate on that. We forgive everybody. Anthony Muse, Victor Ramirez, Catherine Pugh. We forgive everybody, and they mean evil to us.
"I'm going to be real clear. The Lieutenant Governor, we grew up together. We went to John Carroll High School together. He's a wonderful Brother. Boyd Rutherford is a wonderful Brother. Now, I've said that. He and my brother were close friends, and by that and by our relationship, we became close friends. But — I'm not talking about him being a Republican, I'm not talking about him being Lieutenant Governor — I'm saying when he does not oppose the genocide directed against us, he's no longer politically Black. Why do we forgive everybody? And they mean evil and genocide to us. That doesn't make sense.
"How can we lift ourselves up when Coppin State is an inferior third-class university? Not because the talent's not there, because it's not funded. They put all the money — that's supposed to go to Coppin State, Morgan State, Maryland Eastern Shore and Bowie State University — in College Park. And to University of Maryland Baltimore County. I mean, that school actually had a competitive basketball team. Towson University. University of Baltimore. How in the world have they got all the money, it's always with White people, and we're still loving White people so much we're trying to give our money to them? And that's what we do. We give our money to them."
Bro. Thomas distributed a listing of the recent votes in the Senate and the House of Delegates on Senate Bill 101, the watered-down version of the original Maryland Comprehensive Crime Bill, SB 122. "These are the people who voted against us, the ones who voted 'Yea' for the Crime Bill. This is the House of Delegates. Now, [Dayvon] was right. The Black Caucus in the House of Delegates basically turned [against the Crime Bill]. Why? Because they were on the job. Why? Because the Maryland Coalition for Justice and Progressive Change was on the job. Why? Because the Prince Georges County NAACP was on the job. If the whole Black Nation was on the job the [watered-down Crime Bill] wouldn't have passed. … It wouldn't have passed if we were about our work, but we're not about our work. And that's a horrible problem. So, let me lay out, basically, how I suggest we get about our work. I'm going to use Baltimore as the framework."
Beginning to Take Control of the Local Politics in Our Community
"There are six legislative districts in Baltimore. Each legislative district should have a team, under the leadership of whatever it is. It could be this, our 'Pan-Afrikan Medallion' [pointing at the Spokes of the Wheel diagram], our Council of Elders, but it's got to be competent. Each district should have at least 20 to 30 people, but it should have a few hundred. And what they do is watch Annapolis.
"House of Delegates, District 41. Angela Gibson, Samuel Rosenberg and Bilal Ali. There should be a team of people who do nothing but watch them and the Senator from that district. And before January starts, we should be imparting to them, in writing, what our legislative agenda is. And make it clear that they do not depart from that agenda. We can't do that without unity. So when we talk about unity, there's a meaning for unity and when we don't have the meaning behind that unity, sometimes we fail. Sometimes we have the meaning, and then you run up to [someone like me who says], 'I'm trying to make money as a lawyer. I don't have time for that.' … Okay, when we run up against that kind of handkerchief-head we've got a problem. And if I don't understand that the wellbeing of the Black Nation provides for my prosperity — similarly, if the Black Nation doesn't realize that if I'm working hard, like Dayvon and the Leaders of a Beautiful Struggle are working, and the Black Nation doesn't patronize me — when we've got that kind of backwardness, we're failing ourselves.
"So, let's look at District 41. Samuel Rosenberg; he doesn't serve us, and I'm not saying that because he's White. … We need to target Rosenberg to get another job. Similarly, Nathaniel Oaks in the Senate. He did resign, good enough. … We need to think on what Black man, or what Black woman, who is well-educated, dedicated to our wellbeing to the utmost, who can serve excellently in the Senate and follow our agenda. Jill Carter is a candidate. … Jill is extraordinary, but is she the one? There are thousands of people out here, and we're going to start with her and just stop with her? No. Say if I … want to run, [but] you all never scrutinized me or came to me and said 'Thomas, we want you to run', you all hadn't come to that and I just sought that for my [interests], you don't know whether I'm doing that for my career uplift or whether I'm doing it for the wellbeing of the Black Nation. … So, Rosenberg needs another job, and we need to scrutinize Bilal Ali and Angela Gibson. … [District] 44A, we look at the same thing. Did Keith Haynes [or Curt Anderson] do enough for us? So, if he is a handkerchief-head, we get him another job. And that takes planning.
"There are six districts. Each district should have at least 30 working in unity. Not one group from one organization. All the organizations come in. That means you may even get the conservative-minded Black folks. But they've got to be dedicated absolutely for our uplift. They have to be radically for our uplift. They can be conservative, but radically for our uplift. … Also, we've got to have people who are going to study. I mean, study the legislature and the legislative process. …"
Campaign Contributions: Legalized Bribery
"[Baltimore City and Prince George's County] are the two counties where we have a substantial majority. I mean, a kick-butt majority. But we don't run either Baltimore City or Prince George's County, not now, not ever, and we don't run the agenda for the people who represent Baltimore City or Prince George's County, not now and not ever. We have to change that. And that takes a long-term plan.
"[Senator Robert Zirkin, sponsor of the Maryland Comprehensive Crime Bill] received donations from 2,446 people, from about $50 to about $6,000. We don't do that. Let me get this clear. If we don't engage in 'legalized bribery' of these people, we lose. Bobby Zirkin was not flipping because that White Jewish community and the rest of White capitalist supremacy in that county were well behind just what Dayvon was saying — a program to exploit us for their satisfaction and wellbeing. We offer no defense, and we will never offer a defense, if we're not engaged. … Don't do it illegally. Understand that a campaign contribution is a bribe. You never use that word when you're talking to a public official; then it becomes illegal. You never say, 'I'm giving you this so you've got to do this.' You never do that. What you do is you go to their meetings. We have to go to all these Delegates and Senators and tell them what our agenda is. We take one person from each of our districts and say 'This is what we're doing.' … And we don 't go with 18 people. We go with two or three. And we rotate around. And we do the work. If you do the work, it begins to show."
Unified Power
"And when the handkerchief-head doctors, lawyers, preachers, congregations and other business folk follow along, and when the community, that part that is not so dysfunctional that it cannot operate for its wellbeing, follows along, we begin to amass unified power that can rock and roll in Annapolis, when it's only three months and one week. We do not work that three months and one week. White capitalist supremacy does. Because we don't do that, we lose."
Bro. Thomas reiterated his admonition that "you don't trust people who have betrayed you before" in charging that most of our Black elected officials have, in effect, been White elected officials due to their failure to implement a Black Community-based agenda. "We have to do that in Baltimore here with the Mayor and the City Council. … When the Mayor is talking about giving beaucoup crazy money to Amazon, and nothing to us, we need to tell [her] we've got a problem. … We've got the same problem in DC. … These people have sold us out so mightily that we are sinking in our own failure. That stops when we unify smartly. Not just unify. … That stops when we're not just smart but we unify, and that stops when the unity and being smart is on a smart program and agenda."