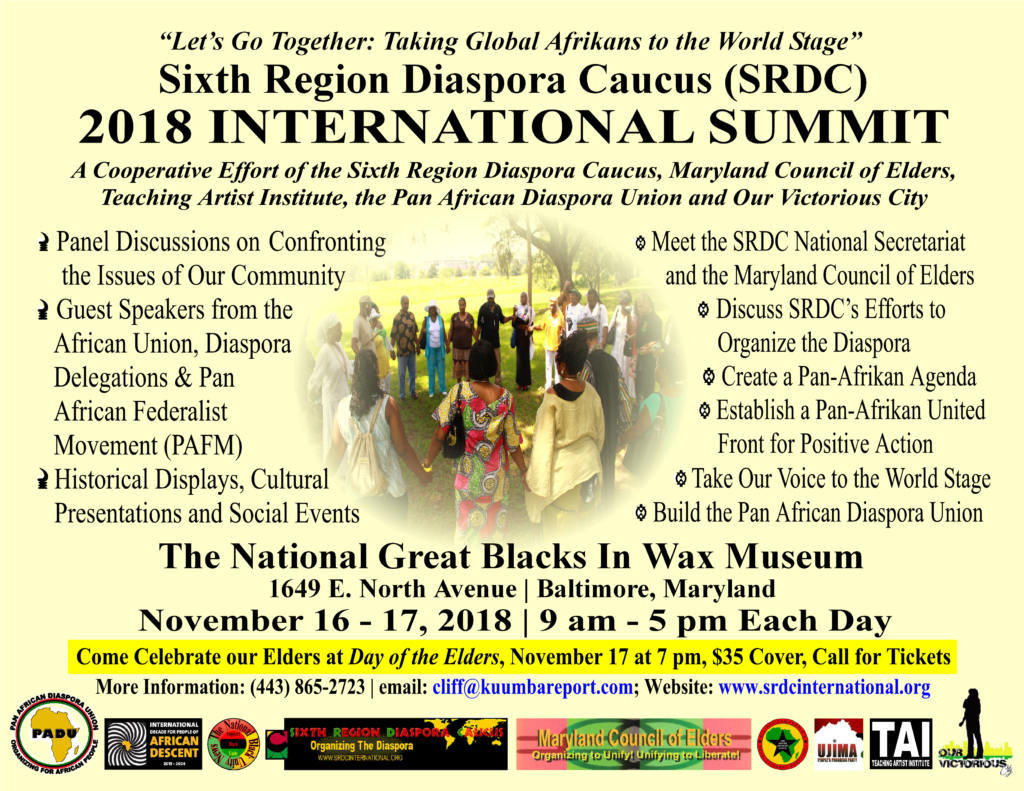 THE NATIONAL GREAT BLACKS IN WAX MUSEUM
1601-1649 E. NORTH AVENUE BALTIMORE, MARYLAND
SIXTH REGION DIASPORA CAUCUS (SRDC)
2018 INTERNATIONAL SUMMIT
NOVEMBER 16-17, 2018 | 9:00 AM – 5:00 PM BOTH DAYS
On Friday & Saturday, November 16th & 17th 2018, the Sixth Region Diaspora Caucus (SRDC), in association with the Maryland Council of Elders, Our Victorious City, Inc., the Ujima People's Progress Party, Teaching Artist Institute, National Black Unity News & Pan-African Diaspora Union, will sponsor the SRDC 2018 International Summit.
The Summit will be held at the historic Great Blacks In Wax Mansion, located at 1649 E. North Avenue, just down the block from the Great Blacks In Wax Museum in East Baltimore, Maryland.
Join us for a fantastic two day long event that will include panel discussions on confronting the issues of our communities, building a Pan-Afrikan media collective and how we as Global Africans can effectively take our voice to the World Stage.
Discussions will include SRDC's efforts to organize the Diaspora at the grassroots level, create a Pan-African Agenda, establish a Pan-African United front for positive action, take our voice to international organizations and build the Pan-African Diaspora Union on the global level.
Guest speakers from the African Union (AU), the United Nations Working Group of Experts on People of African Descent, the Pan-African Federalist Movement (PAFM) and Diaspora Delegations from across the United States and around the world have been invited.  Also featured will be historical displays, cultural presentations and social events.  Come meet the SRDC National Secretariat and the Maryland Council of Elders.  
Social and cultural events will include the third anniversary of the Teaching Artist Institute (TAI) and celebrations honoring the work of several veteran Pan-African activists in the Baltimore, Maryland area as well as recognizing the important role Elders have played in our community.
For more information call Bro. Cliff Kuumba at 443.865.2723, email: cliff@kuumbareport.com, or visit us online at www.srdcinternational.org.