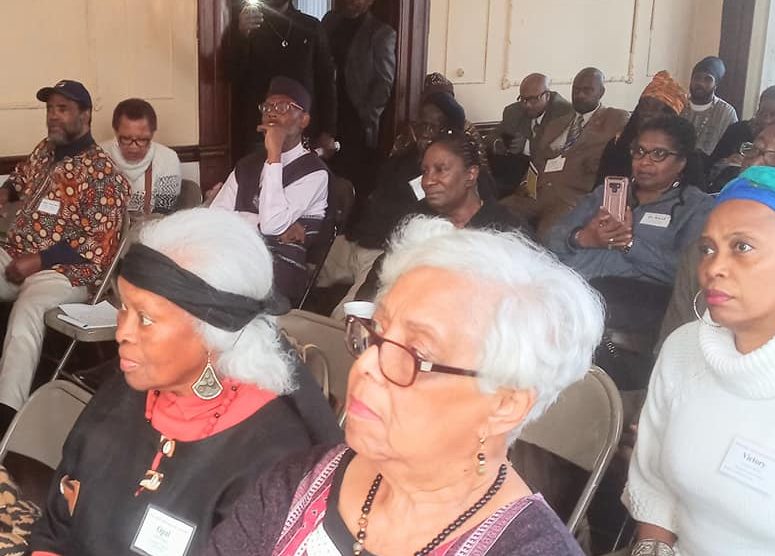 Too often at Pan-Afrikan conferences, when the discussion turns to issues of activism and revolutionary principles, the Brothers take to the podium and fill the air with grand pronouncements and militant fervor. Most of these speeches are indeed quite relevant, necessary even, but in the process the Sisters often tend to be left out, sitting in the audience as though their only purpose is to listen and not to offer their own viewpoints. I have been told something similar on many occasions by the Queen of our personal castle. And on Saturday, November 17, 2018, at the conclusion of the public Summit, I was told this again by a Sister in the audience who noticed that many of the remarks were, again, male-dominated despite our (apparently less-than-adequate) efforts. If there was one oversight of the 2018 Summit that I would correct, it is that a conscious, intentional effort was not sufficiently made to ensure that more Sisters had an opportunity to address the audience.
And there were strong Sisters whose voices needed to be elevated more. Some, such as African Union Ambassador Dr. Arikana Chihombori-Quao, were unable to join us at the Summit because they were out of town (Ambassador Quao was in Ethiopia). Some were lost among the many voices who sought to address the audience that weekend. Sis. Makeda Kandake (pictured, below) of Guadeloupe has been a strong organizer for Reparations for Afrikan people, the ending of France's political stranglehold on its colonies in the Eastern Caribbean (such as Guadeloupe and Martinique), and the organizing of the grassroots Afrikan communities there to force the international
community to hear their voices. Having recently recovered from the devastation of the series of hurricanes that devastated her home as well as Puerto Rico and the Virgin Islands, she is now organizing for conferences and collaborative efforts between Afrikan activists to be held and directed from her home country. More time should have been reserved for her to make formal presentations at the public Summit event, though she was able to be directly involved in discussions with other Pan-Afrikan activists as part of SRDC's work to build international coalitions on the way to re-establishing the Pan African Diaspora Union (PADU) on the global level.
As it was, however, Sisters were not outright excluded from speaking at the Summit. Below, we include some of the statements made by Sister Activists from Afrika (Liberia), the United States (Maryland) and Europe (The Netherlands), as attendees at the Summit offered their suggestions and planned initiatives to help lift up and liberate Afrikan people. There were also statements made by Mother members of the Maryland Council of Elders, as well as Sisters who participated in State Presentations from Maryland and Washington State, which will be shared in a future article. Whether they were at the podium or speaking from the floor, Sisters and Mothers did indeed have important things to say, and we are honored to be able to share their words.
In this article, we feature the statements of Dr. Barryl Biekman of The Netherlands, Sis. Mouna of ECOWAS Women out of Liberia, and Mama Victory Swift of the Maryland Council of Elders, the Sixth Region Diaspora Caucus and Our Victorious City. These were some of the most powerful statements of the Summit, as they gave the rest of us important direction for recognizing, acknowledging and respecting the power of the Black Woman, reaching back home to our Sisters and Brothers in Afrika and ensuring that, when working on behalf of our Youth, that we "leave no one behind."
Dr. Barryl Biekman on Women of Afrika at the United Nations
Dr. Barryl Biekman, founder and lead organizer for the African Union African Diaspora Council (AUADC) of Europe, has been organizing people of Afrikan descent from her home in The Netherlands for decades. She has been at the forefront of resistance to the racist Christmastime character known as Black Pete ("Swarte Piet"), known in fables as Santa's black-skinned assistant who, instead of giving treats and toys to good little children, instead kidnaps "bad" little children and spirits them away from home, never to return. She works tirelessly to organize Afrikan populations in Europe to raise their collective voice in the African Union, as does Professor David Horne in the United States. She is in regular contact with Afrikan activists in Germany, the United Kingdom and Dimonas, Israel; indeed, Dr. Khazriel Ben Yehudah of the Afrikan Hebrew Israelites was also in attendance at the Summit, largely because she was there as well. She was among the Pan-Afrikan activists who participated in the 2001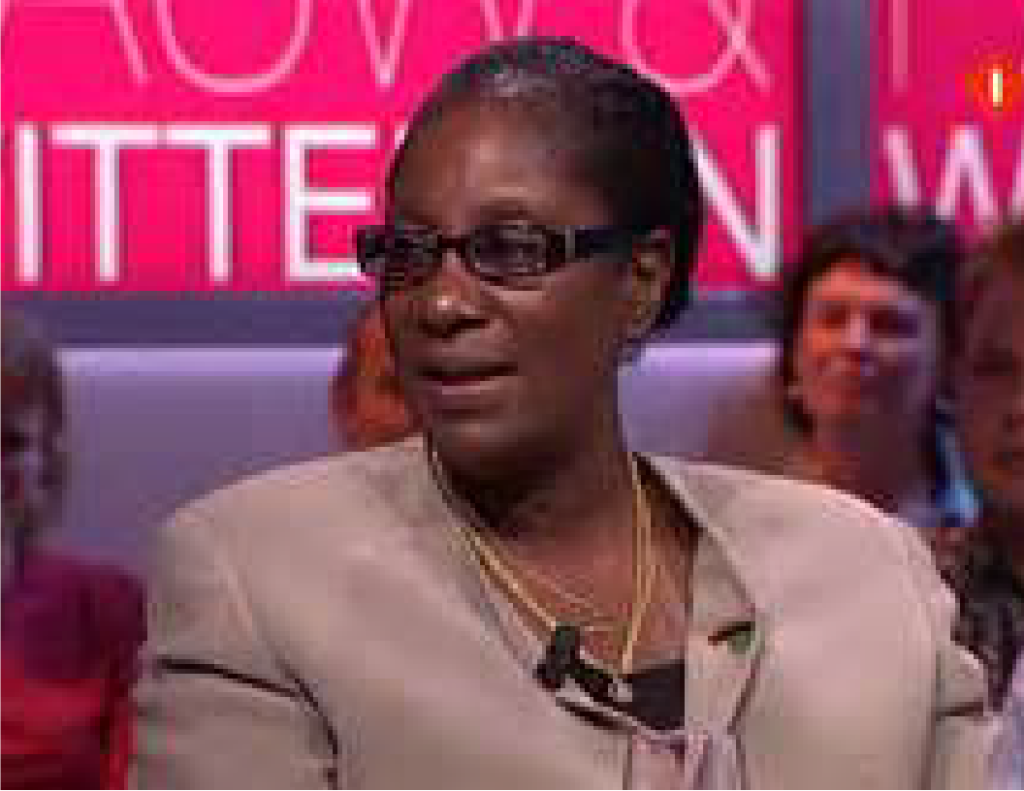 World Conference Against Racism, Xenophobia and Related Intolerance (WCAR) in Durban, South Africa. Born in Suriname, she has worked for well over a decade in cooperation with SRDC to organize Afrikan people in Europe to establish their voice in the African Union as well as in the United Nations. In January 2015, she gave the keynote address at the official launch of the United Nations International Decade for People of African Descent, and has contributed to the efforts of the UN's Working Group of Experts on People of African Descent, which she has continued to champion in the years since.
Aside from participating in several key meetings during the Summit to forge organizational relationships with the Continental Afrikan delegates from organizations such as the African Diaspora Union (Afridu) and the diplomatic delegations from The Gambia and Liberia, she made important observations regarding the African Union, the United Nations and the status of women. "The African Union has declared, until 2020, the Decade of Afrikan Women. And in the Commission on the Status of Women, every year in March, at the United Nations, Afrikan Women [of the Diaspora] are together with Afrikan Women from the Continent. And they are doing amazing jobs. Amazing jobs. Because people must realize that women in some parts of Afrika don't have access to land, not to finance. … And these women are doing incredible work."
Sis. Mouna, ECOWAS Women (Liberia) on Bringing the Knowledge Back Home
One group that is participating in the March events at the United Nations on the status of women is the ECOWAS Women. Sis. Mouna, from Liberia, is the President of ECOWAS Women, an organization of Sisters from West Africa who are organizing in the area of the Economic Organization of West African States (ECOWAS). "There's a United Nations Commission on the Status of Women every year, where women from all walks of life come together, from all organizations, to put their case forward," she said, echoing Dr. Biekman's comments. "We were privileged to apply for a side event this year. The deadline was the 9th of this November. So we applied and they will get back to us on November 29. If we are selected, then we can form a synergy, come together and form something to present on that day, instead of us doing it alone. You can come with your plan, I can come with my plan, because we are from Liberia, we have people from Nigeria and other parts of Afrika. And the side event will be visited by everybody, and we'll be on the United Nations Compound.
"So the Sheroes Sisterhood is doing it with us, the ECOWAS Women. And what we do is, anything that is in the interest of women, we look our for the protection of the Woman."
She addressed issues faced by Afrikans in general and Afrikan women, in particular, in receiving the respect from Europeans and men that they deserve. "Afrikans don't need to be coming here and looked down upon. … We need to believe in ourselves. … Whatever we see here in America, we can take it home and make it better. So, with this side event, we can encourage ourselves, and we [can] come together as one. …"
She also discussed Afrikans who move to the West and never return home to Afrika. "People come here and don't want to go back, they want to stay here [but] at the end of the day, we have freedom back home! What we need is for our governments to understand that they can't continue to look down on us [and should] give us the rights that we deserve. They say that America is getting our citizens. So, if everybody is leaving Afrika and coming to America to stay, what's going to make a difference back home? Nobody's going to be left back home who can make a difference. So, can we come together as one?
"I'm an Afrikan woman, who is proud to be an Afrikan, who is coming here to tell my people that we don't have to abandon home. We can leave home, but not abandon home. We come, get experience, get the good things that we see, go back home and make an impact. Do not just leave everything there, come here and stay. I don't see freedom here. I see freedom back home. Back home, I'm president of the ECOWAS Women. Liberian women. Strong women. Here I'm nothing. Here, I have to do everything for myself. Back home, we come together as people. We see one another. We don't just get on the Internet and that's it. … Back home, we interact. My brother, my mother, my family, we live together. We have to make people see these things. Why? Because leaving home to come to America, because of hunger, because of bad governance, people don't want to see their children hungry. [Because] your children are hungry, your children cannot go to school, you cannot pay your children's school fees, you have to come to find a greener pasture. But if we get our governments to see that these things must change, we will find ourselves coming back home. We will find people staying home. And coming here to just … get experience.
"So, we are open for partnership. We have applied for the side event in March, they will get back to us November 29, then we have to get our Concept Note, our Proposal. … We've got to come together and encourage one another and start from here."
[The United Nations did reply and approved the application of the ECOWAS Women for the side event at the March UN conference — Editor.]
"Leave None Behind": Mama Victory Swift (Maryland Council of Elders and Our Victorious City)
Mama Victory Swift is a member of the Maryland Council of Elders, as well as founder of the organization Our Victorious City, named for her youngest son, Victorious Swift, who was tragically murdered in March 2017. Mama Victory did a number of things behind the scenes throughout the weekend to help ensure the Summit ran smoothly, including financing the food for one day of the Summit so the attendees could eat for free, but she also made several important statements during the Summit that reflected the level of commitment that one would expect to see from a consistent community activist who is also a mother deeply touched by the senseless loss that threatens us all who live in an environment where so many struggle to survive. Her comments to the audience reflected the personal concern that should shake us out of our intellectual arrogance, laziness, fear and inertia, and make the struggle real for all of us.
"All roads lead to Afrika," she told the audience on Saturday, much as Mama Tomiko also said. "We have to be able to see the forest for the trees. Everything we're doing collectively and individually leads us all back to the Motherland, leads us all back to the Continent. Everything we're doing in Baltimore, whatever we're doing in Seattle, whatever's being done in Detroit, Ghana, Liberia, whatever is being done, the purpose of those efforts is for us to come together as a people and to reclaim our name, our culture and our land back. That is our purpose, and I don't think any of us in this room are dismissed from that agenda. Am I correct? That is our agenda. And … we do need a collective focus on how to get our land back, but I think that we are all collectively doing what we're doing wherever we're doing it, so that all roads will lead back to Afrika."
The day before, speaking about connecting with Afrika and making that connection for the masses of the people, Mama Victory stressed the importance of making personal connections with the people, and most importantly, the children. "Is there any organization out here that works with youth? … It is absolutely possible for us to collaborate, from wherever we are, to make this a collaborative, so we in Baltimore and those in [places like] Seattle, we can set a date and all of us from different states can go together with children from our respective areas, together, to Ghana. So we can do that. That is something we can think about, that we should do, that if we just put our minds to it, we can do. … I want to communicate with everyone that signed that registration. …
"The one thing I wanted to take away is the assignment that we have. … We have to speak, for the next year, to every Afrikan we see. If you walk past an Afrikan, you speak. Everyone, even the ones of us who are lost. … Because that grows unity. That's something that we've been indoctrinated to not do. And that keeps us separated. So when you see another human being that has the same melanated skin as you, you speak whether they speak or not … because that grows unity. That's something that they're not accustomed to. That's something that we're not accustomed to. I walked in this room today and there were people who didn't speak to me and we know better. We know better than that. … And we're then obligated and responsible to do better. Because, see, love is an action word. It's 'to love'. And because it's an action word, we have to move on it, if we're really serious about growing a nation of people who are waking up and arising from their sleep. The first part of that is having a human connection that we've been indoctrinated to discontinue, out of fear. So, speak. That's one.
"Two is, it's not enough for us to save our own selves. … My youngest child, Victorious Swift, was murdered last March. Now Victorious, from the age of five, was a founder of an organization. He was a warrior, he is a warrior. His spirit is so profound that the energy of his life force still exists, not only with me and mine, but nation-globally. He did more than I even knew he did. But it's not enough for us to fight and save our own children. If we will not fight to save all children, then we've dropped the ball before we've even started. Because — I say this, I've said it for years — we can raise our children to be the most phenomenal human beings, the most phenomenal warriors, on this planet, but if we don't reach the ones who didn't get it, that's the one who will meet ours in the middle of the night, in an afternoon going to their car, on their way home — and steal their lives. We have a responsibility, to raise all of our children … and , really, really, really — leave none behind."
Next SRDC Summit Article: Words From The Elders