Delaware State University hosted the DSU-APRM Pan African Development Conference, "Mobilizing the 6th Region of Africa" on April 10-12 . Co-hosted by the African Peer Review Mechanism, known as "Africa's self-assessment for good governance", and the Center for Global Africa at Delaware State University, the Conference concentrated on topics ranging from reshaping Afrikan and Diaspora images, narratives and relationships to development opportunities with APRM member countries and the role of APRM in mobilizing the Sixth Region of Afrika, as the Diaspora was unofficially named in 2003 when the African Union initially launched its Diaspora Initiative.
This first Pan Afrikan Development Conference at Delaware State University essentially announces the Center for Global Africa (CGA) to the public. This initiative was conceptualized by Delaware State University Professor Ezrah Aharone and was promoted in large part by Professor Aharone, Professor Akwasi Osei and Professor Leandra Casson Marshall.
"While Pan African gatherings are not unusual," Prof. Aharone writes in his introduction to attendees,
"this conference uniquely coincides with the 400-year mark (1619-2019) of the Transatlantic Slave Trade in the United States. Along with the importance of understanding our interlocking interests and the global complexities of this period, we at Delaware State University understand the subsequent 21st-century responsibility of Diasporan Africans to now structurally devise and apply our collective intellect and ideals toward institutional collaborations for global and sustainable African progress, as this conference aims to facilitate through our Center for Global Africa (CGA).
"Further unique, the CGA's establishment aligns with the African Union's (AU) policy to designate Africans in the Diaspora as the 'Sixth Region.' So to contribute to Africa's 'Renaissance and Revitalization' as recently declared by President Uhuru Kenyatta of Kenya, the CGA's mission is to mobilize Sixth Region resources and expertise through HBCU initiatives that are faculty and student-driven, solution-oriented, development-centered, and revenue-generating in ways that will be mutually beneficial to Africa and the Diaspora.
"To this end, we applaud and recognize the value of APRM which is a specialized agency of the AU, on whose behalf we largely gather today. The purpose is to exchange ideas that will productively contribute and expand APRM's unparalleled work to evaluate the proficiencies of governance and socioeconomic conditions of African nations, with the objective to make recommendations for governments to implement as a means to catalyze 21st-century innovations and development of African nations."
The full Conference consisted of an opening VIP reception on Wednesday, April 10; four panel discussions on Thursday, April 11, followed by an evening reception; and closed sessions on Friday, April 12. We were able to make the drive to Dover, Delaware, the location of Delaware State University, for the Thursday sessions, where most of the public discussion took place.
The Conference was notable for its varied selection of important speakers. Of course, being an Historically Black College/University (HBCU) and the institution at which the Center for Global Africa was founded, Delaware State professors served on the various panels. Prof. Ezrah Aharone, Dean Michael Casson, Prof. Leandra Casson-Marshall, Prof. Akwasi Osei, Dr. Vincent Fondong, Dr. Cherese Winstead, Dr. Kankoe Assiongbon and Dr. Maneesh Pandeya all made important contributions to the Thursday panels. Prof. Eddy Maloka and Prof. Ibrahim Gambari of APRM, Prof. Donna Patterson, Dr. Marshall Stevenson and Dr. Virginie Zoumenou of University of Maryland Eastern Shore (UMES), Dr. Chieke Ohejirika of Lincoln University and Prof. Jamila White of Morgan State University were among the academics from other institutions and organizations who provided key insights and analysis.
South African attorney Tumi Dlamani, Zemenay Lakew of APRM and New Economic Partnership for African Development (NEPAD), Liziwe Masiela of APRM, and His Excellency Khayar Ouman Defallah of APRM-Chad were among other important speakers.
Perhaps the best known panelists were former Major League Baseball manager Dusty Baker; Robert "Kool" Bell of Kool & The Gang, who is partnering with Mr. Baker in Kool-Baker Energy to provide sustainable energy in Afrika; Thomas McClary, founder of the Commodores, who spoke about cultural exchanges between the Diaspora and the Mother Continent; and African Union Ambassador to the United States, The Honorable Dr. Arikana Chihombori-Quao.
As perhaps the most prominent (and for many Afrikan Diasporans, the only) voice to consistently speak out on behalf of the unification of Afrika and her Scattered Children in the Diaspora, Madame Ambassador Quao's comments on the key topic of mobilizing the Sixth Region of Afrika are included below, pretty much in their entirety.
One of the African Union's major catch-phrases over the last several years has been "The Africa We Want". Here, Ambassador Quao describes the AU's current plan for how we in the Diaspora can help build it.
"Once again we are here to talk about matters of the village. There are issues in our village, and I appreciate the opportunity for us to come together as members of the village to address the issues together.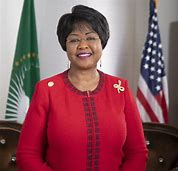 "With what I know of the issues that are keeping us together, difficulties that we are having as Afrikan Diaspora, Continental Diaspora, and Afrikan Diaspora as Afrikan Americans. I know many of us have tried to go home, to make a difference. And many of us have come back, because the conditions on the ground were not conducive to what we wanted to offer. I used to take doctors on medical missions, and you end up with a surgeon treating infections and sore throats. Because that's all they could do. The country did not have the facilities they needed to do what they do best.
"Now, there are other reasons why some of us have gone home and come back. And I'm going to hit this nail by the head, because it's something we must speak to. When we go to Afrika, as Continental Afrikans, who've been-to – in my husband's country of Ghana, we call these people like me "been-to's"; I've been to America, I've been to Britain, been-to's – we've got issues. We go back home with an attitude. We think just because we've been-to, we know more than the ones at home. That attitude has got to change. And it's one of the reasons that many people are not making it when the been-to's go back.
"We also have Afrikan Americans, who go to Afrika thinking 'I'm going to tell the Afrikans, I know more than the Afrikans.' That's where you are wrong, because Afrikans have a lot to teach you too. So there is a need for an attitude adjustment, a realization that we have something to offer. But they too have something to offer us. What is needed is for us to work together, because united, and understanding each other, that's the only way we can come together in a meaningful way and build the Afrika that We Want.
"At the African Union Mission, that's one of my mandates. Two main mandates, one to promote Afrika in the Americas, and the second one, to bring the Diaspora home by any means necessary.
"With that understanding, I sat down and asked myself, how do I go about taking this very diverse, interested group of people who don't like each other, how do I go about bringing them together so we can go home?
"Looking at the issues that we are dealing with on this side of the Atlantic as well as the opposite side, I've come to the conclusion that the only way we can effectively go back home as Afrikan Diaspora to accomplish two things: 1) yes, to bring the expertise that is needed, but 2) I remember two years ago, president Trump was addressing the Afrikan heads of state and he said 'I don't know why you guys are poor. My friends go to Afrika poor, they come back rich.' Are you with me? So for those of you who think the Afrikan heads of state are calling you to come home because they just want your money, wrong. We are saying, if you don't show up, and you [don't] stand up to be counted, next time the contracts go to the Chinese, shut up. How do we give you contracts when we don't know where you are? How do we know about your business when you don't stand up? And that is the challenge the Afrikan heads of state are running into. Next … Monday, Tuesday, Wednesday, there is a conference going on in Nairobi. Former Prime Minister of Kenya, Raila Odinga, is now over infrastructure. His advisor called; one of his Afro Champion advisors called me and said, 'Ambassador, we need you to put together a coalition of Afrikan Diaspora who can come in and be together with Afro Champions, be the first to know of the development of projects that are going on in Afrika.' There is nothing wrong with Diaspora organizations building the next Cape to Cairo Highway. The next Cape to Cairo High Speed Train. You can only get those contracts when you're on the table. You heard your sister [earlier in the conference] talk about [trying to find a] Pan Afrikan Chamber of Commerce, but [especially when she mentioned developing an Afrikan] single currency. These are all opportunities that are going to happen in Afrika at the continental level. You've got to realize, because of the Afrikan Continental Free Trade Area [CFTA], for the first time ever, in the development agenda for Afrika, we are looking at it as Afrika, not as 55 different countries.
"So this is a tremendous entry point, that if you Diaspora, if we don't organize, we are going to miss out. The heads of state are saying the Diaspora must be in the front, along with the Afro Champions. They are wanting to create a space for us. We got our twenty-second ratification which is what we needed in order for implementation [of CFTA] to begin, two weeks ago. We are talking of a baby who has just been born. I want everybody to be clear about that. We are in a beautiful place to be on the drivers side, [in the] drivers seat of the developmental agenda for Afrika. So please, if you hear anything else from me, this is the time for us to organize, and stand up, and let's take Afrika where Afrika belongs on the world stage. But in the process, we are also helping ourselves. There is nothing wrong with you investing your money in Afrika, coming back home to America, and play golf like they do. That's what we want you to do, so don't look at it any other way. It's a win-win situation.
"So with that in mind, in Washington, we set out to then say, Where do we begin? Fortunately for us, first it was the President of Zambia who stood up and he gave us 135 hectares of land, which is about 300 acres. And when the President of Zimbabwe heard about the 135 hectares, he said … Zambia has a lot of money. You see, Victoria Falls – for those of you who don't know Victoria Falls, Google it, it's a beautiful place – is one of the best tourist destinations in Afrika. They say Victoria Falls is like a woman: when you look at her from the Zambian side you're looking at her back. But when you're looking at her from Zimbabwe the choice is yours which view you want. So he proceeded to give us 2,000 hectares. So we have been offered 2,000 hectares of land, on the Zimbabwe side of Victoria Falls, along the Zambezi River. Prime, prime, prime location. There, ladies and gentlemen, we, the Afrikan Diaspora, in collaboration with our Brothers and Sisters on the Continent, we are going to build our first, our very own, Wakanda.
"We are calling it, Afrikan Diaspora Centers of Excellence. Why are we building Wakanda? Money alone is not enough to bring change, sustainable change that Afrika needs. Capacity building is where it's at. Most of you may not realize that Afrika today needs 1.2 million doctors. If all the Diaspora, Continental Afrikan and Afrikan American doctors, were to go home to Afrika today, they're only going to meet about 30 percent of the need. Many heads of states thought building new hospitals, renovating old ones, was the way to address the issues of health care. Guess what? Most of those wards, half of them, are empty because there are no doctors.
"I'd like to talk about my husband's country, my own country, Ghana. There are more Ghanaian doctors in New York City alone than in the entire country of Ghana. So when Diaspora starts complaining … I say '[that's] because you are here.' So our reality is , capacity is what Afrika needs. And where is that capacity? It's in the Diaspora, thanks to the brain drain. At every level, every sector, the capacity Afrika needs is in the Diaspora, not on the Continent. Seven billion dollars is being spent every year paying salaries to expatriates going to Afrika to provide services. And when I ask why is it that you never get Diaspora to fill some of those jobs, they say 'Where are they?' … At every level, we are losing out because we are scattered.
"So, in Wakanda, there will be a thousand-bed teaching hospital to train all the capacity Afrika needs. There will be one Wakanda village in each region, which will be a developmental hub for the region. So for every hospital built, there will be supporting hospitals. Also, we will have a university, a technical college, to train, again, all the capacity Afrika needs. Agricultural farms and an agricultural college, hotels for hospitality. A country with some of the best tourist destinations, [but] we're only realizing about 4 percent of the tourism dollars in the world. Agriculture – for a continent with over 65 percent of the arable land in the world, we are importing food. I am embarrassed to say that. Afrika should be, and will be, the breadbasket of the world.
"In addition, in our Wakanda, we are also going to have pharmaceutical manufacturing. Most of you are also not aware that in most of the Sub Saharan Afrikan countries, [of the] drugs going into those countries, close to 50 percent have zero bio-viability. That means they are not medication. They are chalk, in some cases poisonous substances. Millions of people are dying every year, thinking they are taking blood pressure medicines, diabetic medicines … when they are taking poison. Those are murderers, outside murderers, coming in. Millions of them, every day. And nobody is held accountable. We have got to stop that. …
"And of course, there will be a power plant, infrastructure, housing, supportive development. It's going to be a very modern city, with roads that are ready for self-driving cars, monorails for easy transport around the village. It's going to be how Afrika should be. We will build the Afrika that We Want.
"For everything that's happening in Wakanda, there's going to be downstream development. You can picture this: a team … whose job is to do nothing but to make sure, 15 to 20 years from now, [lack of] access to health care is a thing of the past. Educators who are saying, 15 to 20 years from now, [lack of] access to health care is a thing of the past, [lack of] access to power is a thing of the past, [lack of] access to water is a thing of the past. We'll have teams from the Diaspora working on the various sectors. Can we not do that guys? Absolutely, yes we can. And all we've got to do is organize, because the brains we need are endless in the Diaspora. Then the question becomes, 'Ambassador, how are we going to find them?' That's easy! We've got 50 million Black people in this country. 41 million Afrikan Americans and 9 million Continental Afrikans. If I just get a million of those to put aside a thousand dollars a year, that's a billion dollars. Can we not do that? If I get 5 million, now we're down to only 200 dollars a year, and we've got a billion dollars. And you take that money, you leverage it, and you keep it in there, just leveraging it, not doing another thing, we can get a billion dollars every year, out of that money, to build our Wakanda. Can we not do that? Can I get an 'Amen'?
"We can do this! We want the NGOs out of our countries. We want no more aid. Aid is killing us. We don't need aid, because we are very capable of taking care of ourselves. Especially you, us, Diaspora. To whom much is given, much is expected. We can do this. We live in this wonderful, great country. In my last conversation with [previous African Union Commission] Chairman [Nkosazana Dlamini-] Zuma, she said to me, 'My sister, if sustainable development is to come to Afrika, it's going to be brought by the Diaspora. But not just any Diaspora; the Diaspora in America. The Diaspora in America. Think about it. There's something unique about being a Diaspora in this country. We already live as Americans. Not as Californians, not as Floridians, but Americans. Subconsciously, we are already integrated, so moving into Afrika is a piece of cake! So the Afrikan leaders, and my [current African Union Commission] Chairman, Moussa Faki Mahamat, they are very clear, that in order for Afrika to move forward, the Children of Afrika in the Diaspora must be front, middle and end of it all. So I look forward to our conversations, [and] I hope that we can all be in the right spirit and agree that we must speak as one Continent, one Afrika, one voice. Thank you."
The Ambassador has also released an extremely informative video in which she quite emphatically breaks down the destructive legacy of the 1884-1885 Berlin Conference, in which the European powers at the time carved up the Afrikan Continent into colonial territories that led to the current map of Afrika we see today, as well as the colonial influence that persists in Afrika in the form of colonial languages, colonial spirituality, colonial names, colonial currency and the pillage of the Continent for the benefit of the colonial powers, and urges us all to work together as Afrikan People to break the colonial grip that still hampers the Mother Continent to this day.