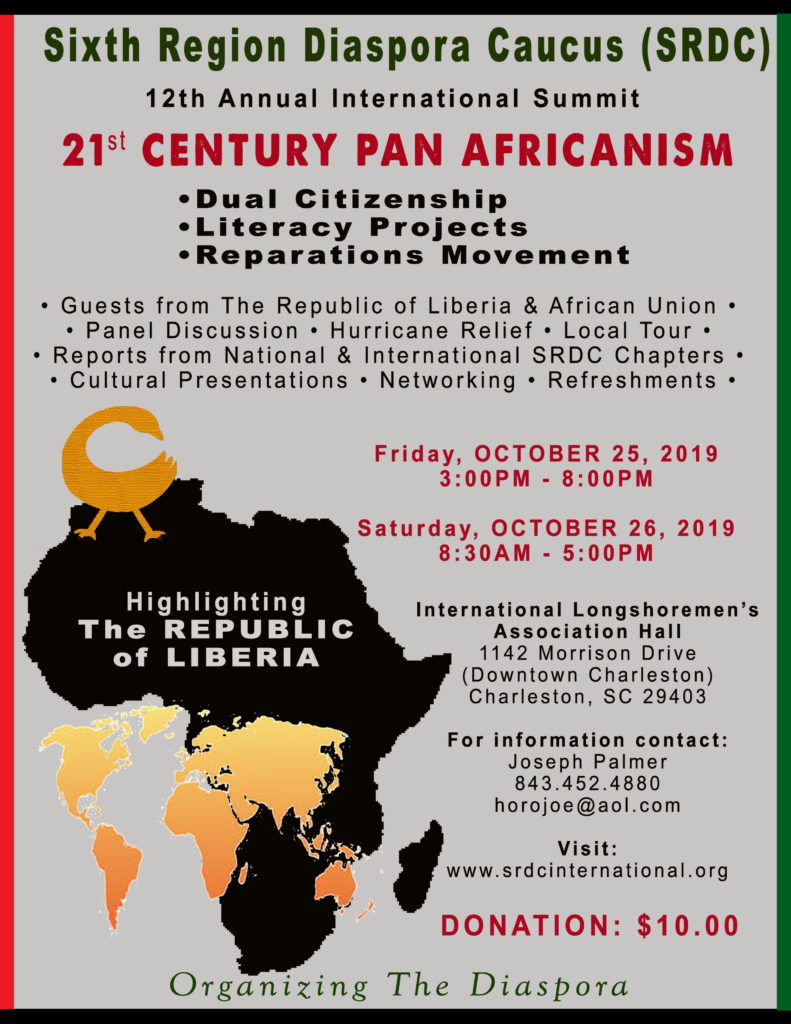 The Sixth Region Diaspora Caucus (SRDC) announces our 12th International Summit.
The Conference dates are Friday and Saturday, October 25th and 26th, 2019.
The SRDC International Summit is an annual opportunity for our local organizations to gather together to report on the year's progress and plan toward our goal of building and organizing the voice of the Grassroots Pan-Afrikan Diaspora so we can take it to the World Stage. Our Summits are open to members of the grassroots Afrikan-Descendant community to come and learn more about our work. We also invite special guests from Pan-Afrikan organizations and delegations from Afrikan and Afro-Diasporan countries to make presentations and build coalitions to foster true unity among Afrikan People. This is what Ancestor Malcolm X told us to do back in 1964 when he urged us to stop blindly expecting the United States government and other oppressive regimes to honestly work on the behalf of their long-oppressed Afrikan and Afrikan-Descendant populations, a habit he described as "taking our case from the wolf to the fox". Thus, we organize at the local, national and international levels to build awareness in our communities about the need for us to be able to raise our own independent voice, through the establishment of local and national Pan-Afrikan Agendas and the election of Councils of Elders and Representatives to take our case to global entities like the African Union, United Nations and independent Pan-Afrikan organizations like the Pan African Federalist Movement.
The International Summit has been held every year since our founding (except 2015) in one of the cities where local SRDC organizations have been established. Previous Summits have been held in Washington, DC (our inaugural Summit, in 2007); Columbus, Ohio (2008); Seattle, Washington (2009); Charleston, South Carolina (2010); Baltimore, Maryland (2011); Nashville, Tennessee (2012); Los Angeles, California (2013, 2014 and 2016); Nashville, Tennessee again (2017); and Baltimore, Maryland again (2018).
This year's Summit will be held in Charleston, South Carolina, which had previously hosted the SRDC Summit in 2010.
The 2018 SRDC Summit, held in Baltimore, Maryland, featured presentations from SRDC local chapters, Pan-Afrikan organizations in the Baltimore area and our organizational allies from The Netherlands, Guadeloupe and Israel as well as delegations from Ohio, New York, Nigeria, Liberia and The Gambia. The 2019 Summit in Charleston, South Carolina promises to be an even bigger and better event!
Among the issues we hope to discuss this year are the continuing work on the establishment of Liberia's first Public Library, a project being spearheaded by Sehwah-Liberia and the South Carolina chapter of SRDC; the continuing work toward establishing an Afrikan-Centered Curriculum; SRDC's continuing work toward establishing our voice in the African Union and United Nations; the development of a Cooperative Coalition model to help bring our many and varied organizations together in a unified, comprehensive strategy; the economic platform of the Pan African Business and Trade Center (PABTC); and much, much more.
The SRDC International Summit: Conference Location
The Conference will be held at the International Longshoremen Association's Building located at 1142 Morrison Drive, Charleston South Carolina 28403.
For those who will be attending from out of town and will need accommodations, there are several options available, but it will be important to book early, as rooms are limited. One hotel is the Sleep Inn, located at 299 Wingo Way, Mount Pleasant, South Carolina 29464. The phone number for the hotel is 843-856-5000.
For more information, contact Joseph Palmer by phone at 843-452-4880 or by email at horojoe@aol.com.  SRDC's Web site is http://www.srdcinternational.org.