WORLD FESTIVAL OF BLACK ARTS & CULTURE
DAKAR, SENEGAL
December 10 – 31, 2010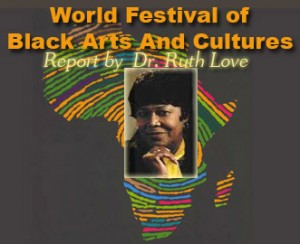 Report by Dr. Ruth Love, Professor, University of California at Berkeley
International Facilitator, SRDC
"It is the destiny of Africa, after four centuries of incomprehensible conflict and turmoil to now become a continent united by the best of human achievement, cultural excellence, prosperity, security, peace and progress."
~His Excellency Abdoulaye Wade,
President of the Republic of Senegal
Not since the legendary Marcus Garvey convened 25,000 Africans descendants for the First International Convention of Negro Peoples (August 1 to 31, 1920) has the world seen so many brilliant and dedicated Africans focused on the African Renaissance. Under the auspices of Senegal's President Abdoulaye Wade, the "conference-festival" focused on Africa's future. From some 66 countries, an unprecedented group of scholars, academicians, scientists, mathemeticans, doctors, educators, filmmakers, artists, writers, elected officials and civic leaders engaged in serious deliberations germane to the development of the continent. A sense of urgency prevailed throughout the deliberations.
This conference was the third such festival and the first in 30 years. In 1966, the late president Leopold Senghor launched the first festival in Dakar. The second festival took place in Lagos, Nigeria in 1977.

This conference, (FESMAN) titled "World Festival of Black Arts and Cultures, took place from December 10th to December 31st. The USA delegation (200) returned on Dec. 18th after a 10-day participation. Endorsed by the African Union, this meeting appeared more of a conference than a festival. His Excellency Maitre Abdoulaye Wade opened the conference with a lengthy, but impactful speech. He laid out some of the issues facing Africa (poverty, diseases, education, job, economic development, natural resource development) and emphasized that the countries have to work together to solve these giant-sized problems. He also emphasized that Africa needs all of the Diaspora and that he will continue to stress that idea with the African Union.
The USA delegation was composed of Pan African scholars in psychology, education, history, medicine, the arts, elected officials: Mayors, State legislators, National Association for Equal Opportunity in Higher Education, civic leaders and the National Basketball Association/Africa. Dr. Djibril Diallo, the UN officials for HIV/AIDS, organized the group.  Many of the delegates had been involved in Africa for years and for some; this was the first trip to the Motherland. Delegates flew from Kennedy airport on a chartered flight to Dakar. Among the U.S. delegates were Dr. Johnetta Cole, Director of the National Museum of African Art at the Smithsonian, Runoko Rashidi, noted historian, Wayne Watson, President of Chicago State University, Dr. Julius Garvey, Surgeon and son on Marcus Garvey, Professor Leonard Jeffries, City University of NYC, Richard Gant, actor, Dr. Ruth Love, Professor, University of CA, Berkeley, Dr. Joyce King, Professor, Georgia State University, Dr. John W. Franklin, Director of African American Art at the Smithsonian and son of John Hope Franklin;  Dr. Ron Daniels, President of the Institute of the Black World 21st Century and many others.
The five structuring conferences of the 3rd World Festival of Black Arts and Cultures endorsed the establishment of the United States of African and embraced the United Nations Millennium goals: End Poverty and Hunger, Universal education, Gender Equality, Child health, Maternal health, Combat HIV/Aids, Environmental Sustainability and Global Partnerships.

The format included daily forums on selected topics followed by lunch and roundtables. evenings were taken with entertainment. Each forum was chaired by the Honorable Iba der Thiam. Dr. Thiam is an imposing figure who made a meaningful presentation each day and handled the panels with great skill. He is clearly one of Senegal's most distinguished scholars.
This report will highlight selected aspects of the conference. Numbers speakers delivered presentations daily.

OPENING CEREMONY
The formal Opening Ceremony was spectacular! Held at the National Stadium Leopold Sedar Senghor with hundreds of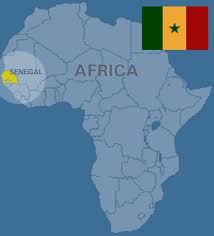 guests attending, it ended in the wee hours. President Wade and several leaders addressed the crowd. Performances by Angelique Kidjo, Youssou Ndour, Carlinho Brown, Mahotella Queens and many others, captured our collective attention. Some five hundred dancers, in well-choreographed fashion, covered the surface of the stadium with unbelievably rapid African dances. Multi-colored lights added to the brilliance of the performers. Between music, dance and spoken words, the evening left us breathtakingly impressed and moved.
AFRICAN RENAISSANCE FORUM
Several distinguished African scholars spoke at length regarding what is required to bring about a serious renaissance.  Dr. Theophile Obenga, from the Congo, gave a stellar presentation for one and one-half hours. In essence, he admonished the audience about Africa being left behind to be exploited and placed the blame clearly on leadership. In reiterating the fact that Africa has not built a car, airplane, found cures for deadly diseases, he called on Heads of States, intellectuals and scholars to become pro-active in planning and initiating some major steps. Further, he indicated," We have not eliminated poverty, unsanitary conditions, hunger, tribal wars or corruptions." Obenga urged  Africans, at home (continent) and the Diaspora to focus time and attention in building our own manufacturing and processing companies. Decrying the fact that natural resources have not benefited African masses, he stated emphatically, "It is time to assume responsibility for our own destiny. We allow and encourage others to come in and take our resources and only a handful reap the financial benefits."  In stressing education, he repeatedly indicated that illiteracy has no place in the 21st century.
Dr. Obenga's presentation was so well received the convener stated that it would be placed on a DVD so that it could be widely distributed. Dr. Obenga was a student of and later worked with Dr. C. Diouf and the two of them present compelling testimony before the United Nations in defining Egypt as an African country.
Other scholars addressed similar themes and expressed a sense of urgency about Africa's need to make radical changes. They hammered away at the need for education, jobs for the educated, reclaiming those who have left the continent in order to find ways to make a living. "Africa needs its citizens and Africa needs the Diaspora" was a repeated theme. The brain drain continues and has seriously affected the continent's capacities.
Dr. Wade Nobles' presentation stressed the importance of understanding that our history goes back to Kemet and we are the first civilizers of humanity. He spoke about Black psychology and why it is imperative to know and understand ourselves from an African Perspective.
Mr. Mel Foote spoke about the importance of the Diaspora working collaboratively to help Africa reach and realize its goal of self-sufficiency. Mel Foote had an alternate agenda and spoke to several youth leadership groups in Senegal and in the Gambia.  He interacted with the U.S. Ambassadors in both countries.
After an intense day of speaker after speaker, the evening was taken with a Football Match, Brazil vs. Senegal.  On the Sunday, there was an interesting Round Table between President Abdoulaye Wade and artists, intellectuals, elected officials of the Diaspora. Again the president expressed his interest in and support for the Diaspora. The festival highlighted the role of art and culture in promoting development and the achievement of the UN Millennium Development Goals by 2015. It is fair to say that during the U.S. delegation stay in Senegal, President Wade gave us special attention.
GALA: TRIBUTE TO WOMEN
The official inauguration of visual arts, architecture, prints, photographs (inventors), paintings, cravings and crafts, represented one effort to demonstrate the contributions of black culture to humanity.  After visitation to the exhibits, the Gala, A Tribute to Women was held. Ten women from around the world, including Dr. Ruth Love were honored. The gala was an elegant affair with African women beautifully adorned. President Wade gave the keynote speech and stressed the contributions of women historically and currently. After dinner, each woman was introduced and made presentations. It was long night, but an informative and inspiring evening.
That evening provided an opportunity to talk with President Wade about SRDC and the African Union. He was interested in SRDC's approach in organizing in the United States. Although, we spoke through interpreters, occasionally, he would speak English. On the occasions when he was participating, messages were sent to President Obama and some statement regarding SRDC was interjected.  Several discussions were held with Pan African women. One Senegalese woman is interested in running for president and spoke adamantly about the possibilities.  Interestingly, there was buzz regarding the president's desire to have his son succeed him and/or he was considering a third term in 2012. Some women with whom I met were individuals in high governmental positions, professors at universities and still others were civic leaders who were engaged in civil and human rights. Several such persons from Brazil were strong leaders locally and nationally. The commitment of these women to social justice was evident. They spoke of raising families and leading efforts for the improvement of lives of citizens. All of them had encountered discrimination as a black person and as a woman. Gender and ethnic biases are alive and well.
ELECTED OFFICIALS/EDUCATORS
The ceremony between President Wade and Members of the National Conference of Black Mayors, the National Black Caucus of State Legislators, the National Associations for Equal Opportunity in Higher Education and the National Basketball Association/ /Africa (NBA/Africa) provided an opportunity to exchange ideas around political and civic issues.  Present also were representatives of the National Association of Senegalese Mayors. The discussion resulted in commitment to develop joint projects.  Basketball figures are on a mission to visit villages and teach basketball to children and youth and discuss the importance of education.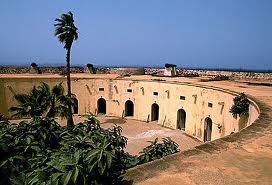 GOREE ISLAND
Goree Island is the slave house, designated by UNESCO as a World Heritage site in commemoration of the painful history of the Atlantic slave trade. Located a few miles from Dakar on an island, Goree is a major tourist site. It reminds us once again of the inhumane, callous and horrific experiences endured by our ancestors. Like other slave dungeon, walking through Goree is a very emotional experience.  In the evening, the Senegalese Dance group entertained the delegations.
RESISTANCE FORUM
The forum on Resistance focused on the various forms of resistance, beginning with West Africans revolts against being entrapped. Several speakers spoke to resistance. On slave ships, there were those who resisted being transported to a new land. Some refused to eat. Others chose to jump overboard rather than be chained like animals. Once in the new lands of America, South and Central America, Caribbean Islands, including Cuba, some men and women tried to escape the auction block. From the earliest time on plantations, Africans plotted and planned revolts; some violent and others simply escaped at the risk of their lives.
Speakers described the various forms of resistance to enslavement and colonization. Interestingly, there was discussion about those who escaped enslavement only to flee to other countries where they were treated badly and often enslaved. Some of the countries represented were Turkey, Canada, Germany, and Pagua Island. Brazil had the largest delegation of 500 and had comments regarding the impact of enslavement and discrimination. The chief of Pagua is living in exile and graphically and emotionally described current slavery of his people. The Indonesians prohibit them speaking their language and education is minimum. One can be jailed for merely saying a Paguan word. He is attempting to bring public attention to their plight. He expressed gratitude for being in Africa and presented his headgear to President Wade. Members of the audience shed some tears. (Hopefully, Danny Glover and others will visit the island).
The point was made repeatedly that Africans did not accept enslavement and always tried to find ways to obtain freedom. During the middle passage, some Africans went on hunger strikes and plotted ways to escape. Scholars discussed the longing for their homeland that was pervasive. Some scholars expressed deep resentment at the European portrayal of Africans being happy with enslavement.  Even those few, who were not as harshly treated, longed for and found ways to become free. There was the indication that the number and context of slave revolts are seriously under-reported.
The former president of Benin gave a moving presentation on slavery. Complete with photographs, he stressed the mistreatment, the degrading experiences of those enslaved.  "In spite of all that has happened, our brothers and sisters have come back and we must join hands and work
Together." He is working with an organization that plans to keep enslavement before the public. In private, there was discussion regarding the guilt and shame some Africans feel about their ancestors' role in the slave trade. They also indicated that Africans have to come to terms with it and move forward.
Dr. Julius Garvey gave a stunning presentation on the importance of collectively working toward common goals. He also expressed the belief that we can accomplish anything we put our minds and hearts to: Up You Mighty People." Africans were thrilled to meet and see the progeny of Marcus Garvey. Dr. Garvey has projects in Ghana, Mali and Uganda and is a frequent visitor to the continent.

Dr. Leonard Jeffries gave a presentation on the return of African descendants to African and the contributions they are making in different African Countries. He expressed hope for the future, given the quality of discussions and presentations thus far. Dr. Jeffries shared his commitment to Africa beginning in the 1960s when he was a university student with Operation Crossroads Africa.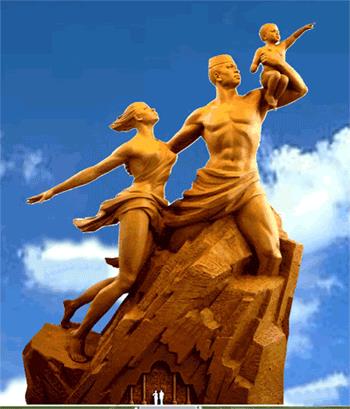 AFRICAN RENAISSANCE MOMUMENT
The Monument, recently sculpted, is a gigantic statue of an African Man, Woman and child (pointing to Africa). Located on a hill, with lights around it, the monument is an impressive sight and claims to be the tallest monument in Africa. The monument is titled, "African Renaissance. Interestingly, the sculptor was a North Korean and an opening ceremony was held a few months ago. The U.S. Ambassador, due to the involvement of North Korea, boycotted it. Nevertheless, the monument is magnificent.
An evening of speeches and music at the foot of the monument was a special occasion.  There is a sense of empowerment.  The Heads of States offered their congratulations to President Wade for such an extraordinary work of art. In attendance were presidents from Libya, Liberia, Nigeria, Mali, Gambia and other countries.

PRESIDENTIAL FORUM
President Wade invited the USA delegates to the Palace and convened the Senegalese mayors with the US mayors and State legislators with their elected officials. This meeting included his cabinet of Ministers as well. The president gave a lengthy speech, as did different representatives who had been involved in facilitating the conference. His purpose was to have elected official begin a dialogue and develop some collaborative projects. I brought greetings from President Barack Obama and First Lady Michele Obama. It was abundantly clear that President Wade desires a relationship with President Obama. He is preparing a packet of materials to be sent to our president.
In an unusual statement, President Wade said, "We must teach the truth. Africans were involved in the slave trade and the involvement was morally wrong. But they were not the main reason for slavery, nor would there have been a market without the organized business of Europeans. He emphasized the need to change what is taught.
President Wade indicated that he is establishing a museum on slavery and a department on the Diaspora at the university. Throughout the conference, we were told how important it is for the Diaspora to work with Africa.

The garden reception that followed, included delicate food, conversation with African leaders and an introduction of 170 Haitian students who has been given shelter and care by President Wade. As the evening ended, the president presented delegates with Certificates as Goodwill Ambassadors. It was a grand occasion.

HIV/AIDS ROUNDTABLE
This session was co-sponsored by UNAIDS, (the Joint UN Program on HIV/AIDS) and Senegalese HIV Program. Mr. Michel Sidibe is Undersecretary-General of he UN and Executive Director of UNAIDS. He, too, sent a message to President Obama. Mr.  Sidibe is based in Geneva. He spoke passionately about the devastating effects of AIDS and called on Africa to generate increased efforts to address this issue of life or death. Mr. Sidibe also sent a message to President Obama to aid Africa in this struggle.

Dr. Rosalind Jeffries and Dr. Vera Wade made the panel presentations. Dr. Jeffries emphasized the role and power of art in bringing about change and a sense of well being. She also discussed her role in working with African women and being on the continent whenever she can. Dr. Nobles discussed the importance of African and alternative medicines. She described her own experience with becoming paralyzed, but with the love and support of family and the herbal and traditional treatments, she was able to complete her dissertation. Dr. Nobles also graphically described her recent battle with brain tumor (cancerous) and how she again called on African and traditional treatment, surrounded by her loving family, she defied the odds and is here at this conference. Her point was that we should look to Africa for cures for HIV/AIDS.
Dr. Diallo expanded the panel to include the following:
Elsie Scott, Executive director of Congressional Black Caucus, Ruth Love, University of CA and a representative from the basketball association as well as a singer. The famous singer stressed using music to reach young people and educate them about AIDS. The basketball representative, based in South Africa, traveled with a small team to various countries and teaches basketball to youth in villages. The team includes discussions around health issues and education.

I discussed our project in Ghana where a group of women are HIV and husbands have left and have died. Their families ostracize these women. They come together daily and make crafts, jewelry, clothing etc to sell. They have learned to prepare foods for their children in ways that protect the children from HIV. We purchase some of their goods and they are able to make a living.  We provided them with library materials on HIV and inspirational readings.  The ambulance shipped to the project was met with joy and glee. It reduces the time it takes to walk 10 miles to the nearest clinic.  Originally, the only medications they used were tonics, provided by local medicine men. President Clinton's negotiations with pharmaceutical companies, was able to reduce the price of anti viral medications. Now, these women are able to take this medicine. These courageous women speak to youth and women's groups and discuss ways to prevent contracting HIV/AIDS. They feel it is their duty to share their struggles and how they are learning and living lives.
The other project shared with them was our West African Power Plant Project; a project with 15 West African countries who have come together to provide energy and sanitary water for those countries. Each of the presidents has signed on and the program will be launched in the near future. Some of the profits from this project will be used to establish education and health program in each country.

Elsie Scott discussed some of the programs of the Congressional Black Caucus. She talked about the scholarships, interns program and the legislative weekends. The caucus serves as the conscience of the congress. She made some recommendations for follow up to this conference.
SOME RECOMMENDATIONS
Each Forum addressed significant issues relating to Africa's past and future. The first forum's topic was The Diasporan Africans and was opened by Senegalese President Maitre Abdoulaye Wade.  President Wade expressed deep confidence in the Diaspora, as Africa becomes a United States of Africa. He applauded the accomplishments of the Diaspora, in spite of the horrific experiences of enslavement. Historian Runoko Rashidi, Dr. Sheila Walker and Dr. Joyce King spoke during this forum. Some of the key points expressed were:
1.The African Renaissance must be centered in African realities (not Europe) and must include African languages and traditions.
2. Diasporan Africans have experienced a dislocation of self, not a loss of self.
3. The story of Diasporan Africans does not start with enslavement, but with human history in Africa and our humanity and African identity—as one big family.
4. What and how we teach needs to be changed to reflect our Pan African priorities.
5. Using African, rather than colonial languages is essential in the African renaissance.
6. Many in the Diaspora are already involved in African countries and others are familiar with Africa and extend themselves to Africans in their respective communities. More of these interactions are needed.
FOLLOW UP COMMITTEE
One of the most important aspects of the deliberations was the establishment of a committee to set forth some formidable goals for achievement in Africa in the foreseeable future. Each participant in the small group had an opportunity to present concepts for consideration as Africa looks to its future on the world stage. Several from the U.S.A. delegation participated, including Wade Nobles, Joyce King, Ruth Love et. al.
Sample recommendations included the following:
1)       UNIVERSAL EDUCATION for all children and youth: It is imperative for education to be a priority, if they are to thrive. Funds must be set aside and strategies for eliminating illiteracy can affect the nation's future. One suggested strategy to begin the eradication of illiteracy is to adopt a program of "each one teach one" in which each graduate from high school assume responsibility for teaching one child/youth to read. Several countries have used this strategy effective. It is critically important for countries to embrace the right to an education, regardless of economic or tribal identity.
2)      HEALTH CARE: Join with existing groups that are pursuing the elimination of malaria, worms, sanitary drinking water etc. and develop programs to partner with these organizations and individuals to ensure health care for all. Different countries could develop scientific laboratories to focus on one serious life threatening disease. These might include, but would not be limited to the following:  HIV/Aids, Malaria, Polio, Vaccinations, etc.
3)      NATURAL RESOURCES: It is well established that Africa has an abundance of natural resources. Taking charge of such precious resources will necessitate the establishment of oil refining plants, mineral plants to process valuable resources for the benefit of the countries and their citizens. Developing the infrastructure to assume responsibility for handling the the vast resources of the continent is both a challenge and an important priority.

4)      AGRICULTURAL ENHANCEMENTS: It is said that African soil can grow almost anything. A massive campaign to develop agricultural products for domestic use and for exports would enable countries to supply food products for their masses. Additionally, the exportation could generate revenue.
5)      RELATIONSHIPS WITH THE DIASPORA: The vast Diasporans can be valuable partners with African countries. The combined efforts of continental and diasporan African can be powerful influences in Resolving challenges for both groups. Reclaiming those who were taken from the continent can be enriching and enhancing. Given the mutual benefits of the continent and Diaspora, the provision of citizenship would substantially enhance the vital partnership.
Dr. Thiam invited delegates to send additional recommendations to him after returning home. Clearly, he is extremely serious about Africa's future.
In summary, what the conference lacked in logistics, it made up in sustentative discussions. Our hotel was being renovated and thus was not the most convenient accommodations. Nevertheless, the fact that Africans are seriously turning their attention to assuming responsibility for their destiny is absolutely gratifying and entices the Diaspora to join hands in the herculean tasks of helping this remarkable continent come into its own and establish its place on the world stage.