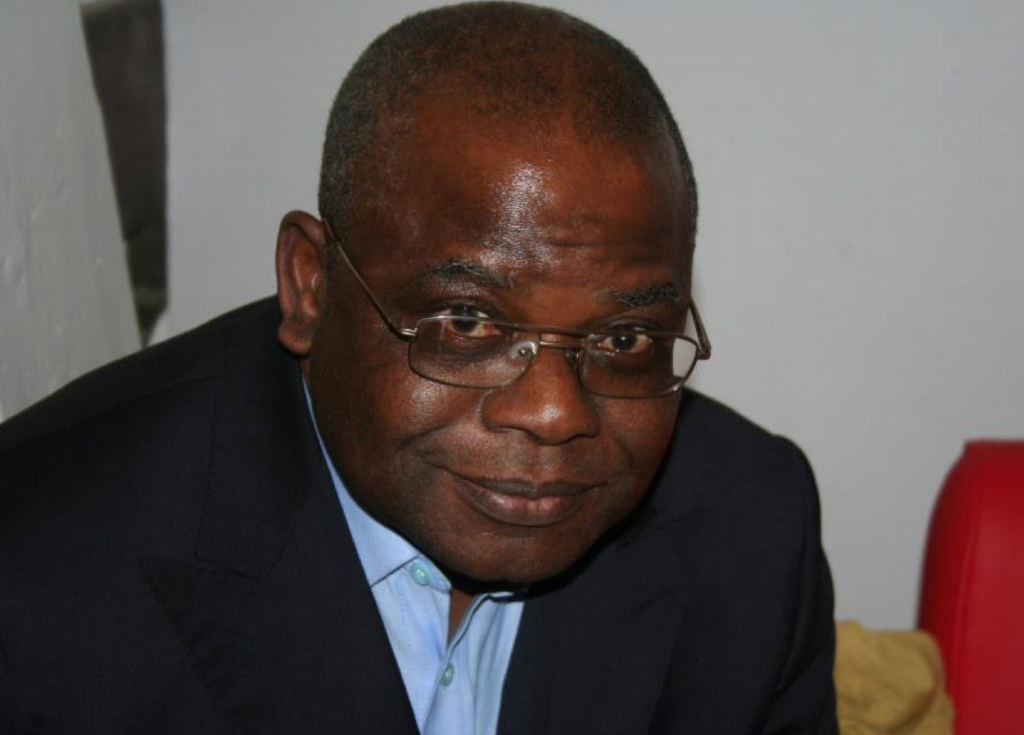 Editor's Note: On Wednesday, June 19th, Dr. Chukwuma Martin Okeke, President of the Mouvement International pour Reparation (MIR) in France, passed on to the Honored Ancestors.  While much has been made of the struggle for Reparations in the United States, with prominent writers such as Ta-Nehisi Coates dressing down the United States Congress in a public hearing on the date of the celebration of the emancipation of the last enslaved Afrikans in Texas, known as "Juneteenth", and with groups such as American Descendants of Slavery (ADOS) advocating for Reparations for Afrikan-Americans, there has been an international movement for the cause as far away as the Caribbean, Europe and Afrika going on for many years.  One of the more prominent international organizations is MIR, and Dr. Okeke has been its driving force.  Below, we present tributes from two stalwart fighters for the cause from across the waters, Dr. Makeda Kandake of MIR from Guadeloupe in the Eastern Caribbean, and Dr. Barryl Biekman of the African Union African Diaspora Sixth Region (AUADS) Europe, a Pan-Afrikan Diaspora organization based primarily in The Netherlands.
Message of Tribute and Brief Biography from Dr. Makeda Kandake, MIR-Caribbean
HE WAS AND WILL REMAIN!
"Death is a garment that everyone will wear"
by Dr. Makeda Kandake
Mouvement International pour Reparation (MIR)-Guadeloupe
Hotep to All!
On this day of celebration June tenth (Freedom Day or Emancipation Day), all these words that celebrate FREEDOM, Dr. Chukwuma Martin Okeke, President of MIR France, faithfully departed from us, to a place of Eternal Honor with the Ancestors.
First-rate humanist, affable and combative at the same time, he presided over the destiny of MIR France, with conviction and force, so that Reparations be granted to the descendants of deported Africans. A Man of science that he was, he was the inventor of a process now widely used by the French industry.
We spoke at length during my stay in Paris in March 2019, and little by little, during our discussion, hope illuminated his face, bringing out with strength the goodness that lived in him. Although the intensity was short, at each recurrence, joy enameled him, his face.
He would not have liked us to be devastated, however my mind is numbed by sorrow. As far as I'm concerned, I lost a friend, an ear, a support.
Thank you, dear Brother Martin, for the trust you have shown in me, and the honor you have given me by making me the International Representative of MIR France in the 6th region of Africa, the Diaspora.
Dear Brother Martin, you have now returned to the very select courtyard of glorious and luminous Ancestors.
My organization SRDC in the USA is paying tribute to you on its website, and the presidents of sister organizations have almost all shown up to pay tribute to you.
THAT THE EARTH OF YOUR ANCESTORS BE SOFT AND LIGHT, TO YOU, FREE AT LAST, FLY, FLY, MY FRIEND
Brief Biography by Dr. Makeda Kandake
He was an engineer specializing in the analysis of wear and aging of materials. He was one of the founders of an engineering school in Lyon, the 3rd largest city in France (ENIS). He arrived at the age of 20 in France following the Biafra war that was raging in his home country of Nigeria without knowing a word of French. He worked tirelessly to catch up with others and continue his studies, in which he brilliantly succeeded. He was a very beautiful person with great humanity. Always listening attentively to others and with great humility. Rich in, and yet thirsty for knowledge. He was like all beautiful people — curious about the essentials. He fought to bring the issue of Reparations to the highest level in France, and was never stingy with advice on the issue. He dreamed of meeting all the good people who were fighting for Justice for Africans and African descendants.
He never failed to ask me to thank the sister organizations that had chosen to accept MIR France in their group and really hoped to meet the leaders of these organizations, such as the Professor David Horne from SRDC, David Commissiong from CPAN, Dr. Molefi Kete Asante and Professor Ama Mazama from Afrocentricity International. He enjoyed talking about Dr. Barryl Biekman, Malaak Shabazz, Dowoti Desir and many others. In short, he was a beautiful soul.
His transition is painful for us who stay here, but finally brought him rest from the ordeal of the illness that finally took him from us. June 19, International Day of Liberty (Juneteenth's Day), is the date he has chosen for his ultimate trip to the Great Freedom to be with the Honored Ancestors. It only remains for us to thank him for his many contributions against the injustices towards our community and his sustained fight for the Reparations of the Trafficking and Slavery recognized as being Crimes against Humanity, and that we must tear up by all means the vestiges of slavery and exploitation. To his family we say to always cherish his memory and once again we bow respectfully to his memory. Thank you Friend, have a good trip to Honored Eternity and may the land where you rest be forever sweet and light.
Message of Tribute from Dr. Barryl Biekman, AUADS Europe
Dr. Barryl Biekman of African Union African Diaspora Sixth Region (AUADS) Europe, a Pan-Afrikan Diaspora organization operating out of The Netherlands, issued a brief message of condolence and tribute:
Indeed with the transition of Dr. Okeke we have lost a Great Pan African Hero.
In 2007 he was at the forefront of the setting up and organizational development of the AUADS Europe and a GREAT supporter of the SRDC.
With his transition we have lost a GREAT fighter for the implementation of the 20 AU ECOSOCC seats for the Diaspora.
Dr. Martin Okeke I applaud for you and thank for all of your dedication; all that has been achieved because of your empowerment and strong belief.
Sister Makeda, SRDC & MIR families please receive my deepest condolences.
May his soul rest in Peace.
Sister Barryl.