This is to announce two important Pan-Afrikan community meetings coming up in Maryland during the month of October.
October 12: Maryland Council of Elders Town Hall on Violence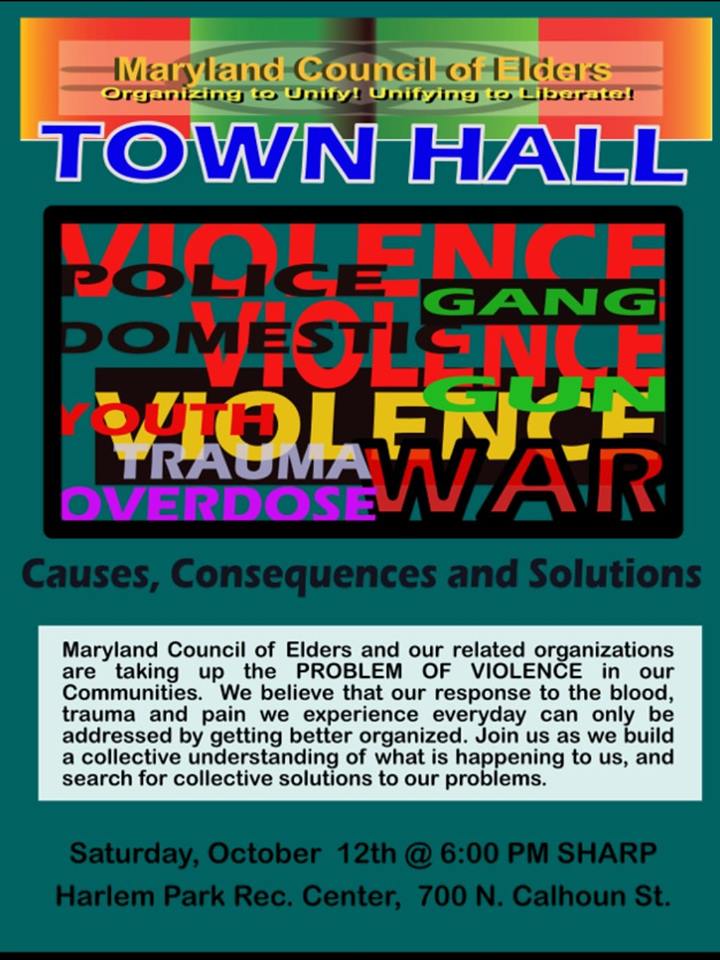 The Maryland Council of Elders (MCOE) is holding a Town Hall on Violence in the Community on Saturday, October 12 at 6 PM. The location will be the Harlem Park Recreation Center, 700 North Calhoun Street, Baltimore, Maryland. Whether it is crime, domestic violence, self-destructive violence, economic violence or police violence, the one thing that remains constant is that the Pan-Afrikan Community is what suffers the most. The causes and consequences of violence in our community will be discussed, as well as ideas for solutions to help end the cycle of violence that seems to only benefit people outside of our community. An important theme will be the need for us to organize as a people if we are to solve the problem of violence in our community. For more information, contact marylandcouncilofelders@gmail.com or (443) 253-2643.
October 19: Sixth Region Diaspora Caucus Pan-Afrikan Town Hall and Cooperative Coalition Conference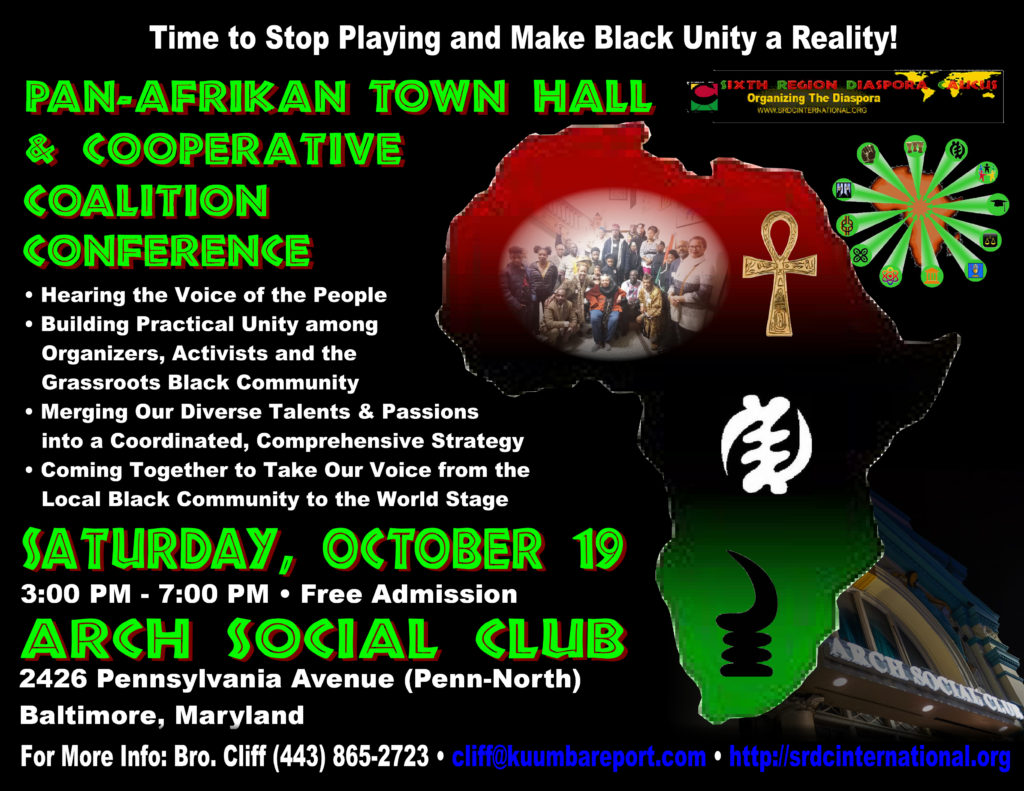 The Sixth Region Diaspora Caucus (SRDC) is holding the next in our series of Pan-Afrikan Town Hall Meetings on Saturday. October 19 at 3 PM at the historic Arch Social Club, 2426 Pennsylvania Avenue, Baltimore, Maryland. The purpose of this meeting is to follow up on previous Pan-Afrikan Town Halls, as well as the October 12 MCOE Town Hall on Violence, and present and discuss a plan for organizing the various organizations, activists and citizens around a comprehensive, cooperative strategy for community self-help, local and national political pressure, and international advocacy for People of Afrikan Descent. Thus, at this meeting, we plan to (1) re-introduce the SRDC Plan to take the voice of the grassroots community to the World Stage; (2) review the Pan-Afrikan Agenda that was developed after the five Town Hall Meetings in 2017, bring in ideas from the platforms and agendas of other Pan-Afrikan organizations and update it as needed; and (3) begin to take concrete steps toward building a Pan-Afrikan Cooperative Coalition to promote real unity and cooperation among our people, a goal all of our many and varied organizations agree is critical to our liberation and uplift. For more information, contact Bro. Cliff at cliff@kuumbareport.com or (443) 865-2723.